The way powerlifting is judged makes the sport a great equalizer. It's no longer just the burliest men winning competitions — small women are more and more often putting their strength to the test and powering through records.
In Squamish, the most recent powerlifting competition had to increase the number of competitors allowed. Out of the 25 local lifters and others who'd travelled to the competition at CrossFit Squamish on Feb. 2, it was 48-year-old local Tonya Motkya whose Wilks score reached a new high for Canadian women in the 100% RAW league.
"Because it's a sport that's pound-for-pound, the coefficient is ultimately what gives you your score. Though women will never out-lift the men, just by nature and size, if you compare coefficients, the women are actually beating the men more often," CrossFit Squamish co-owner Heather Bell said. "In our gym, we have four people who've got an Elite total. Three of those are women."
At CrossFit Squamish, also known as Squamish Barbell, 10 women train powerlifting full-time and it's incorporated into the gym's Crossfit circuit as well. Bell said the gym's powerlifting competitions in particular are growing in popularity, especially among teenage girls.
For Tia Pascuzzi, who is soon turning 16 years old, it's all about fun. The Grade 10 student has been lifting for nearly three years, and most recently competed in the February competition in Squamish. Originally, she started going to the gym to condition for soccer. Since then, she's been to a number of competitions, mostly local, but also one as far as Vernon.
"The sport of powerlifting is really rewarding. It's just an activity that lets you unplug from daily stress and really focus and work toward something else," Pascuzzi said. "You put in all the work and you only get as far as you push yourself."
While she took to the sport immediately, training up to five days a week, the teen said powerlifting is great for people of all ages and levels.
"People are sometimes surprised," she said. "Not many girls my age powerlift, but it's definitely becoming a more popular sport. It's really picking up locally."
Bell, who teaches the Foundations powerlifting class, watches women transform as they pick up the sport.
"I think the biggest thing women benefit from is learning the capacity of their body. Ultimately, lifting is learning to control an external object that has resistance. Learning how to move your body in a way you can overcome resistance, I think develops a lot of confidence," she said.
"For a lot of the women, it's the very first time they've touched a barbell. Watching how they pick it up, it's pretty heavy and they're very tentative. They're not really sure how to carry it, and then you see over time how confident they get with how they move it. They carry themselves with more confidence, their posture is stronger. I think that is a direct outcome of having learned to connect with all parts of their body and understand what their body is capable of. I think that translates to so many parts of life."
And it's not just the physical strength they've gained.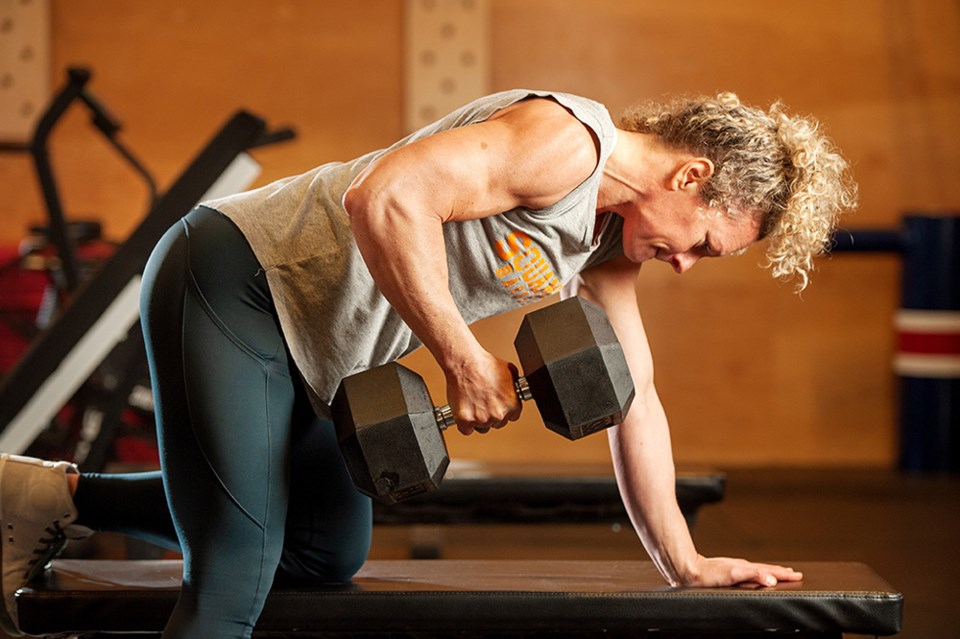 Motyka is the strongest woman over 40 years old who lifts in the 100% RAW federation. With the Wilks scoring system, which combines squatting, bench pressing and deadlifting and compares it to the athlete's weight, Motyka scored a Wilks' 395 at the Feb. 2 competition.
She's been lifting for seven years, beginning when she needed an activity during the winter until she could get back on her bike in the spring. Three years ago she tore her hamstring and her lower body ability was limited. That year, she did her first powerlifting competition at 44 years old — and won records.
At first, she was shocked by her results, but with almost 10 competitions under her belt, that's no longer the case.
"It doesn't surprise me anymore — I don't mean to sound immodest, but I think I know by now that I am reasonably strong. I'm happy with it, but I also work my butt off," Motyka said with a chuckle.
While Motyka had always been active, spending her free time skiing, climbing and mountain biking, nothing has inspired her like powerlifting.
A few years ago, Motyka was at the airport, flying back from a vacation in Hawaii with her husband when she overheard two teenage boys talking about her muscular arms. Motyka tells this story with a laugh — she doesn't care what people think of her body.
"I remember when I first started Crossfit and I looked at the women who were the top crossfitters at the time. I remember thinking, 'Wow, they're really muscular.' And I didn't think that in a flattering way," she said.
The stereotype of powerlifting as bulky and unfeminine is changing, Motyka said, as people accept that women don't have to be skinny. Her own perspective of women in the sport has changed, too,
"Over the years, it's become more and more of being proud of what your body can do," she said. "You're proud of being that strong."
In October, Motyka will be competing in the 100% RAW world competition in Calgary.
The power of powerlifting has also reached beyond just those who compete. One of Bell's favourite stories to share is when, after watching one competition in Squamish, a young daughter of one of the competitors renamed her doll after one of the women she saw powerlifting.
"It's adorable," Bell said. "That is incredible role-modeling,"