A West Vancouver hockey association has taken inspiration from the rumpus rooms of the past for a new type of game that allows players to compete while maintaining proper pandemic physical distancing.
Many Canadian kids grew up with some variation of bubble hockey in their basement or local arcade, a game in which plastic players attached to swivelling and sliding rods battled for the puck while gliding up and down the mini rink in fixed slots. The Hollyburn Huskies, a hockey association attached to the private Hollyburn Country Club, has taken that idea out of the arcade and onto the ice for a new version of hockey for the COVID-19 era.
For the month of July, youth players from the club are taking part in the Hollyburn Summer 3 on 3 League – Bubble Hockey Edition, with rules that mimic bubble hockey in that players must stick in their own lanes, eliminating any chance of physical contact between players. Other rules encourage quick puck movement and lots of shots on goal, resulting in a fun and fast-paced game that the players are loving, said Hollyburn hockey director Adam Hayduk.  
"Our little experiment has been a huge hit with the players and it will help develop skills that maybe weren't priorities for some in 'normal hockey,'" he said. "It has been very interesting to watch how players adapt to new rules and begin to figure things out on their own to gain an advantage."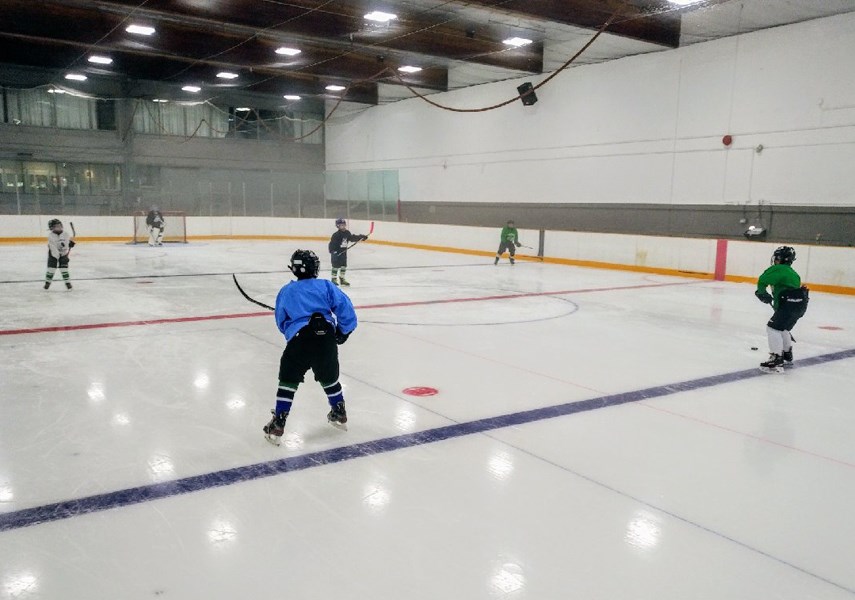 The basics of the game are that each team has three skaters and a goalie on the ice. The rink is divided into vertical zones, three on each half of the ice, with buffer areas between each zone so there is no chance of contact. Leaving your zone results in a penalty shot for the other team. Attacking players occupy the outside two zones while a central defender and goalie play defence down the middle, basically making all attacking situations a two-on-one. To force the action, a rule is in place that requires players to pass or shoot the puck in five seconds or less.    
"There are many races for the puck," said Hayduk. "Players have used deception and look-a-ways to try to fool the defender and goalie. Transitions happen very quickly up-ice – players are forced to look up-ice for stretch passes. … There is a lot of offence and the scores have been very close. Goalies get plenty of shots."
The association's coaches have all relished seeing the players back on the ice and enjoying the new game.
"We all felt that this would provide our players the competition and social connections they have been missing while putting players in a position to work on skills that will benefit them once hockey as we all know it is permitted to return," said Hayduk. "I have been pleasantly surprised how much the kids enjoy the Bubble Hockey Edition of our three-on-three concept and just how competitive they have been playing it."
A complete description of the game's rules can be found here.