Vancouver's 'view cones' are getting rethought thanks to an approved motion by city council.
The areas which are meant to preserve spots across the city that provide residents with a view of the region's mountain and ocean landscape will be assessed to understand their impact on housing.
"This motion really comes down to one central question: do we have a view crisis in Vancouver, or do we have a housing crisis? And I think we can all agree around this chamber that we are in a serious unprecedented housing crisis in our city," said Coun. Peter Meiszner, who first put forward the motion.
City council unanimously approved the motion with amendments today, Oct. 4, which directs staff to initiate a review of view protection guidelines in the city to understand how much housing, job space, hotel space, public benefits and affordable housing could be built on sites restricted by these guidelines.
If a view cone is deemed to be "obsolete" or is no longer functional, it may be removed from the view protection guidelines.
"This motion is not about eliminating panoramic views that we all value and we all treasure and love. This is really about taking a smart look at a review of those smaller-framed, lower-priority view cones that we could perhaps make adjustments to," said Meiszner.
Staff will also conduct a review of all view cones in the city to see if any should be refined or be considered for removal while also highlighting the ones that should be preserved for public benefit.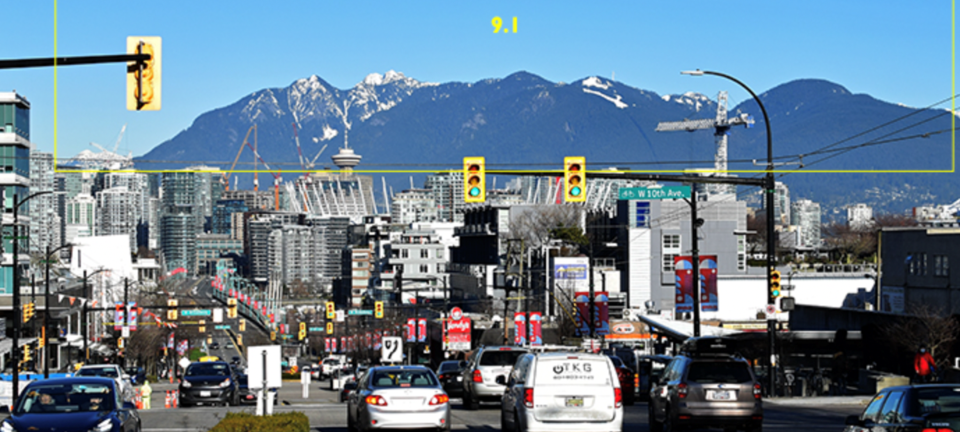 Vancouver's average rent for unfurnished one-bedroom units reached $2,438 in September 2023, setting a new record for the region and marking the sixth increase, according to the latest report from Liv.rent.
The motion is aimed at reducing restrictions on developable land in the city to prevent urban sprawl and increase housing development, according to the original motion.
Ten speakers expressed their support and opposition to the motion.
Josh Anderson, vice-president of development at Nicola Wealth Real Estate, said that office spaces are also being impacted by view cones.
"Unfortunately, our development and growth potential are strictly limited by view cones. Specifically, the Cambie Street views and the non-panoramic QE 3.1. These view cones ... not only impact our property but the wider workspace and housing potential of the entire uptown, Cambie North neighborhood identified for growth in the Broadway plan," he said, referencing the city's area plan that spans from Vine Street to Clark Drive and 1st Avenue to 16th Avenue.
Owen Brady, a director with non-profit Abundant Housing Vancouver, said he supports the motion and that it could unlock more square feet of buildable space.
Brady said that while he supports this, the plan to revise view cones should take into consideration other building bylaws to ensure there is no overlap.
Sean Bailey with Downtown Van, previously known as the Downtown Vancouver Business Improvement Association, spoke on behalf of the organization's president and CEO Jane Talbot.
"We appreciate the significance of preserving Vancouver's natural beauty and iconic views while recognizing the pressing need to address the increasing demands for housing and economic growth. The time has come for modernization of view protection guidelines to align with the evolving and urgent needs of Vancouver's residents and businesses," Bailey said.
He added there are 21 view cones impacting Downtown Van's district.
Among those against the motion, speakers said that view cones provide precious amenities that should be preserved.
"In this increasingly unaffordable city when rents are $3,000 for one bedroom, … all public mountain views, whether they're panoramic or frame become even more necessary to be kept for the public to enjoy for free," said speaker Melody Ma.
Vancouver resident Marlene Wickham said that what could be considered a minor view cone for some could be important vantage points to someone else.