Simply put, there is quite literally nothing more intrinsic or important in any facet of life.
Be it work, commerce or even a menu, choice – and the simple act of being able to choose – is a fundamental, everyday tenet.
For forever and a day, Squamish has been a one-horse town for waste and recycling.
Those days, however, are done.
The Super Save Group is proud to announce its expansion into the Squamish community, giving residents the benefit of 45 years' worth of trust, experience and integrity.
When asked for a pitch to prospective clients in Squamish, Danielle Johannes, Super Save's director of sales, government and major accounts, offers the following:
"We want the residents of Squamish to know that they have options and we would really love to have them as our customers and join the Super Save family," says Johannes. "We want people to know that they have a choice, that they can shop their rates and make sure they're getting a good deal. We can help you evaluate your waste and recycling, and there is now a choice out there for the businesses in Squamish."
Keeping your business looking great is as important to Super Save as it is to you. Pride in the appearance of their bins means your business always looks good. Super Save Disposal's drivers continually take note of any damaged or graffiti-marked bins so a bin swap can be arranged immediately.
A variety of shapes and sizes of bins is available to suit your site's requirements and each bin style can have lids with locks added as requested.
Leading the way in the industry when it comes to diversion success rates in the waste and recycling industry, Super Save brings a wealth of knowledge and practical application to these services in all regions. The company helps its customers achieve recycling programs which best fit their needs, creating unique solutions and pursuing innovative progress wherever possible.
Super Save Disposal uses the latest technology, from pick up times, to contaminated bins, to blocked access. Trucks are regularly inspected so they run efficiently; workers minimize running time, and services are routed along the most efficient route, cutting down on fuel consumption and reducing carbon footprint.
While the Super Save Group has previously been able to provide propane and fencing services in Squamish, the move into waste and recycling represents the same level of upward growth the company has exhibited from Day 1, when things started in Langley back in 1977.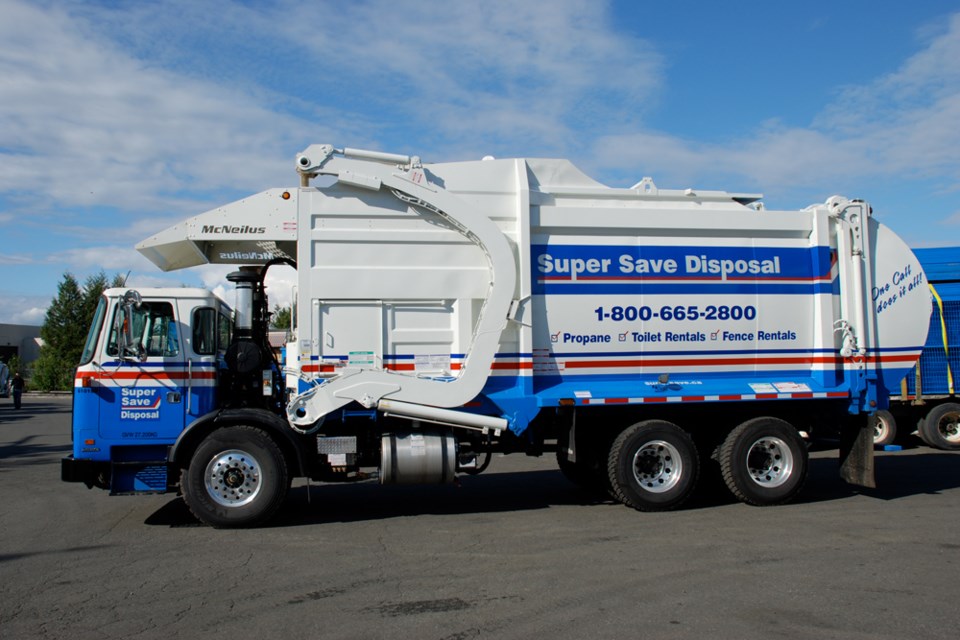 This year represents Super Save's 45th year in business across Canada: it's now a full-scale operation encompassing all of the Lower Mainland, Vancouver Island, Interior, Okanagan, Alberta, Saskatchewan, Ontario, Quebec and Yukon."
"There are lots of waste disposal companies out there, but one of the things that sets us apart is that we're locally owned and family-run," Johannes says. "We know what's important to you and your business and we strive to deploy the best people, products and services because your success is our success."
Rare is the business venture that survives two years, let alone 10. That Super Save is nearing the half-century mark is a testament to the people it employs. While people power has helped win the day when it comes to Super Save's longevity, so too has the ability to adapt.
Super Save has always championed change and more importantly, change for the greater good.
"We really do take recycling seriously and we work with a lot of the major school districts and municipalities in the Lower Mainland to make sure the students are educated and to ensure everyone knows where the materials are supposed to go and to keep it out of the landfill," Johannes says. "As the recycling landscape changed, we changed along with it."
For more information about Super Save's services, visit supersave.ca or email squamish@supersave.ca.