When the beloved Tacofino comes to town with their surf-centric brand, you can bet a lot of unique deliciousness is going to unfold.
Whether you're heading out to conquer the Chief's back-side crag, explore the Sound on your SUP, dig into some Class IV rapids on the Elaho, maybe take in a day hike, say the Upper Shannon Falls Trail, or a sweet ride on the Half Nelson downhill pump track—you're going to need to fuel up, or refuel, depending on your game plan.
Of course, you may decide your day's main event is to simply chill and hang out, connect with friends and family, and kick back for a meal where the good vibes are plenty.
To that end, the Baja-inspired Tacofino makes perfect sense, where their hand-held masterpieces will be offered in its eighth brick-and-mortar eatery, launching soon in the Squamish Station shopping centre, 1200 Hunter Place, near Nesters Food Market.
From humble beginnings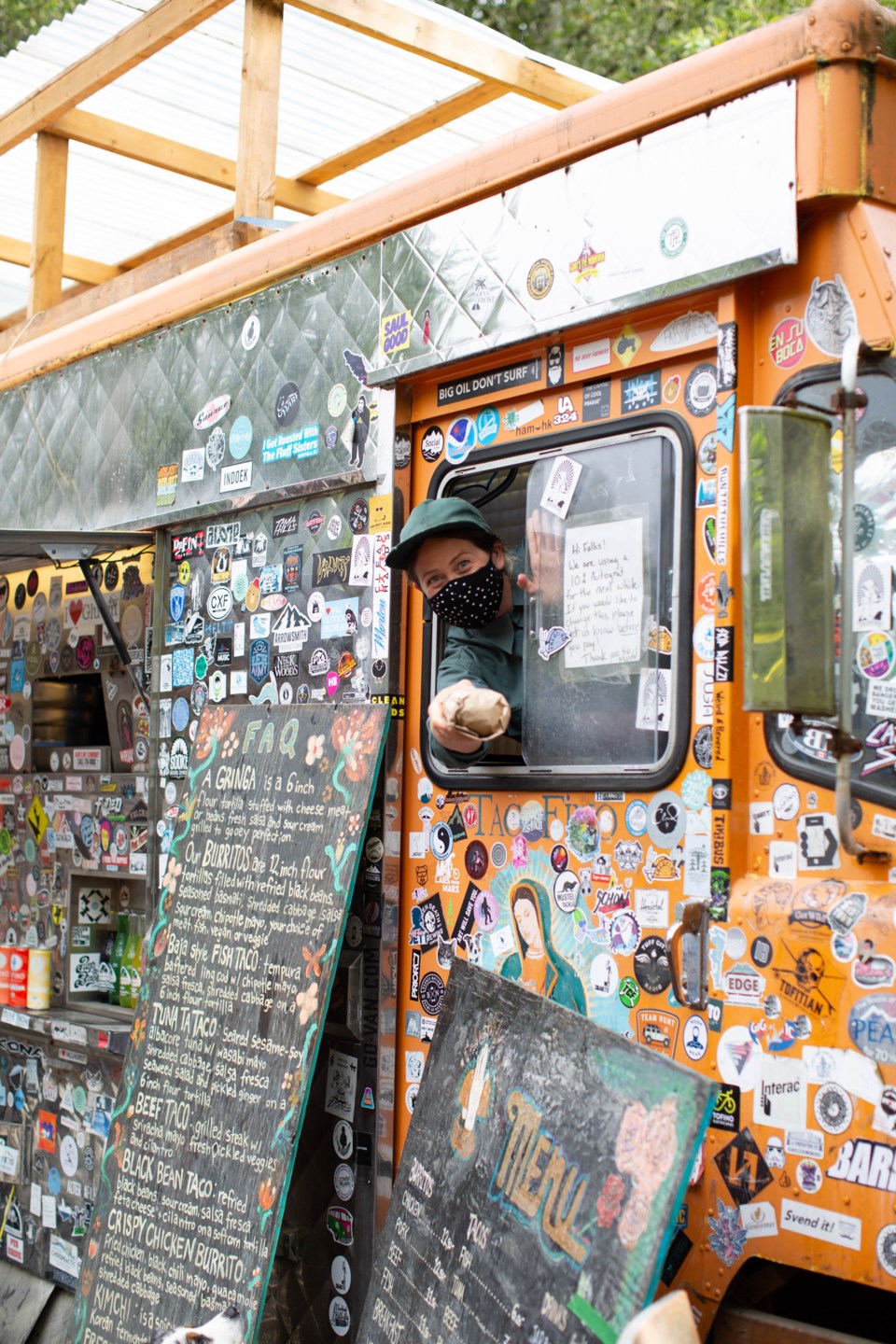 In 2009, Tacofino Cantina was the brainchild of Jason Sussman and Kaeli Robinsong, whose now iconic orange food truck is still going strong at the back of the Live to Surf parking lot in Tofino on Vancouver Island—the springboard to their ongoing enterprise. Once you know the origins, you can't miss the name's clever hybrid.
Today, there are seven restaurants, from Vancouver Island, including Victoria, and across the Lower Mainland, to a fleet of food trucks and the OG Cantina.
Each location offers a unique décor. According to a press release, in Squamish you can expect: "Décor and design by Shiloh Sukkau in collaboration with her colleagues, architect Nada Awadi from Studio Beige and graphic artist Courtney Presber."
"They describe the concept as 'bright and relaxed, with simplified forms and straightforward materials.' Reference points will include, California diners, hand-drawn punk posters and 80's minimalism."
The space will hold roughly 20 seats, plus take-out and delivery service, and will be open seven days a week.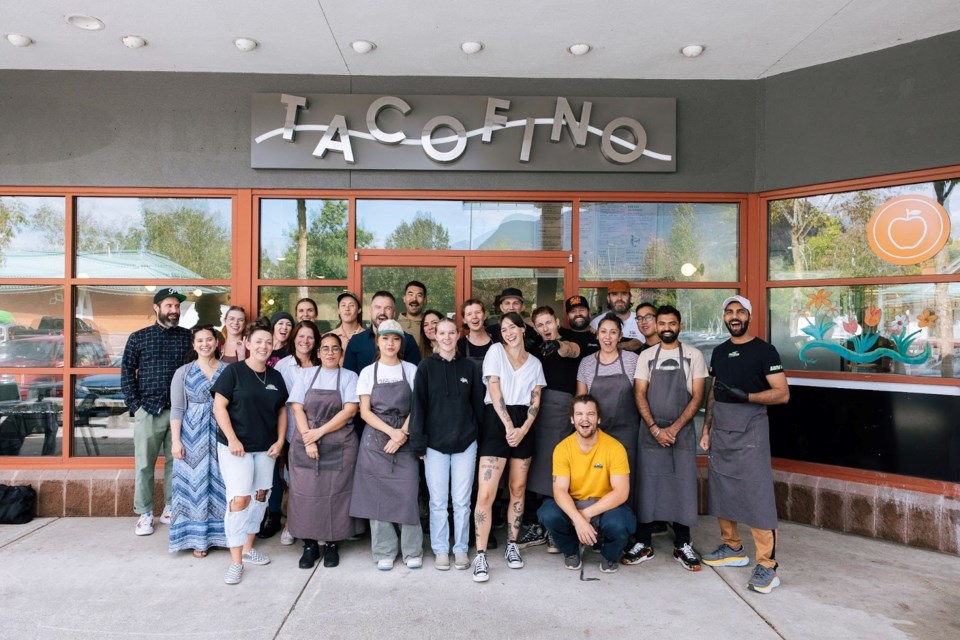 Fresh ingredients, inspired cocktails
Over the years, Tacofino has stayed true to their roots. They use local, sustainable purveyors to create menus with their signature Baja and Pacific Northwest-inspired tacos, burritos and appies, alongside hand-shaken margaritas, local craft beers and Mexican sodas.
Known for their bold and unique flavour combinations, menu items are distinct to their specific locales, with some exceptions, which repeat throughout various menus.
Tacos are 6" flour tortillas, with some constants like, the fish taco; crispy-chicken taco; tuna taco; and pork carnitas.
A new special burrito is making an appearance on several menus: Vegan Krispy Chickun burrito: karaage-style crispy soy curls, spiced rice, cabbage, chilli oil, vegan black chilli mayo, guacamole, sriracha and cilantro.
Exclusive items on the Squamish menu will include a Tempeh burrito and Chiloria quesadilla and burrito. The Chiloria is a hearty and tangy pulled pork, originally from Northern Mexico, while the vegan Tempeh is fried with Korean-inspired sweet and spicy flavours.
Other vegan and vegetarian options are available, too, at lunch and dinner, plus daily features, and happy hour food and drinks from 3 p.m. to 6 p.m.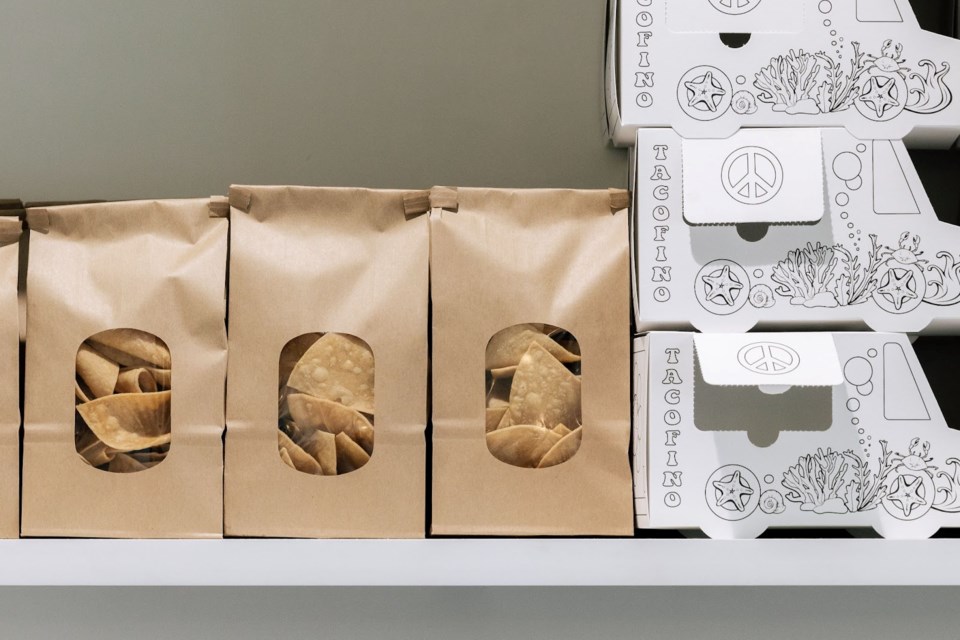 Cazadores blanco elevates cocktails, from the classic lime margarita, and a jalapeño version, to their Mexican mule. The Surfrider margarita includes house made curaçao, where one dollar from every Surfrider sold is donated to the Surfrider Foundation Canada, which is dedicated to the protection and enjoyment of the world's oceans, waves and beaches.
Of all the Squamish adventures you might undertake, add Tacofino to your list. Because like any adventure, you'll discover something new every time you return.
For more information and to see their menu, visit tacofino.com.