Squamish Arts is bringing a summer filled with fun art activities to its local community.
From Amped in the Park every Thursday to ArtWalk on Saturdays and the Squamish Arts Festival in August, there are so many family-friendly options to enjoy local arts throughout the warm months.
"When people think of Squamish, they generally probably don't think of arts because we're so known for outdoor recreations. But we have a huge community of artists that haven't been as recognized as much as they should have been in the past," Squamish Arts executive director Kat Kunze says.
"These events give us an opportunity to bring in those artists and bring in artists from out of town. We're giving people the opportunity to experience art in their own town without having to drive to Vancouver."
Squamish Arts has a busy summer filled with events that aim to increase awareness and provide access to local arts.
"All of our festival programming is for free and includes high-quality talent and artists. It's a great place to come as adults or kids and there really is something for everyone," Kunze says.
This is an exciting opportunity to gather as a community after two years of digital and hybrid offerings.
"This year, it will be all in person with tons of opportunities for people to experience art in different ways," Kunze says.
Here are some of the great ways to enjoy arts in your community this summer:
Amped in the Park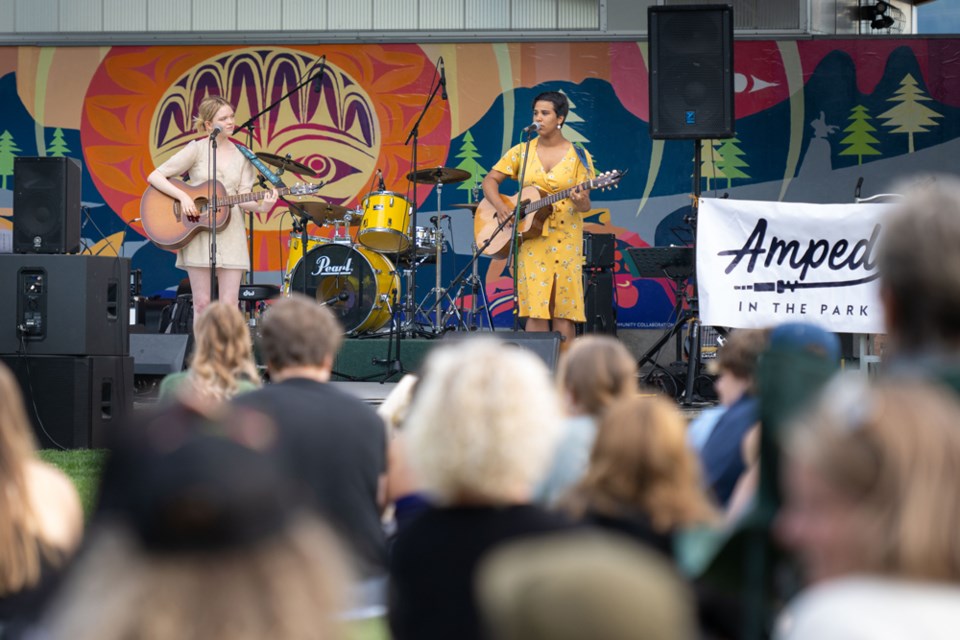 This weekly event runs from 7 p.m. to 9 p.m. each Thursday until August 11, 2022 at Junction Park in Downtown Squamish.
Amped in the Park brings emerging artists of all ages to the stage to perform for an enthusiastic audience. It's a wonderful way for local artists to get exposure, but also for youth and volunteers to hone their sound tech skills.
For the public, it's the perfect way to enjoy a warm summer night. Enjoy local entertainment and get tasty treats from local food trucks that will be in attendance.
Squamish ArtWalk
Running until July 28, 2022, ArtWalk is a celebration of visual art and artists in Squamish. Whether exploring on your own or enjoying a guided studio tour, ArtWalk is a great way to check out local artists and local businesses.
"There are over 70 artists on display," Kunze says.
"You can drop in to different coffee shops, galleries, and other places to see art by local artists."
Squamish Arts Festival
Running from August 8 to 20, 2022, the Wind Festival for the Arts is back in-person this year. Now known as the Squamish Arts Festival, you can still expect the same great programming with two weeks full of workshops, performances and more.
"It's the same great festival, with a new name," Kunze says.
The Festival will feature two weeks of art workshops at the 55 Activity Centre and throughout Squamish, including ceramics, drawing, painting and Indigenous arts, among others. Some will be for all ages, some are geared for adults.
August 12 will feature a live performance from The Free Label, and the 19th will feature an electronic show at the Brackendale Art Gallery.
"We haven't announced the second show's talent yet, but it's going to be great," Kunze says.
The Arts Festival will also have a big festival day at Junction Park on August 13 and at Squamish Oceanfront on August 20, featuring live music, kid-friendly activities, an artisan market, workshops on site, and roaming performers.
"These are two, big, full days of art that people can come, watch and participate in," Kunze says.
To learn more about this summer's art offerings, visit squamisharts.com.