Metro Vancouver's purpose-built rental vacancy rate fell below one per cent in 2022 as rental demand outpaced supply, according to Canada Mortgage and Housing Corp.'s (CMHC) Market Rental Report.
High homeownership costs and migration to the Metro Vancouver area drove rental demand in 2022, according to the CMHC. As a result, the purpose-built rental apartment vacancy rate decreased from 1.2 per cent in 2021 to 0.9 per cent in 2022.
Increases in mortgage rates also contributed to the decline in availability, as more renters had limited capacity to transition to homeownership, according to the report.
"Strong demand for limited rental units means low vacancy rates, rising rents and growing inequality between long-term leaseholders and newcomers," said Eric Bond, senior specialist with CMHC.
According to the report, international arrivals to B.C. doubled in the first half of 2022, with most of newcomers settling in the Metro Vancouver region.
As migration into the province surged, the borrowing capacity of a Vancouver worker aged 25 to 54 making an average wage decreased by nearly a quarter, or about $100,000, in 2022, said the report – further compounding the issue.
Overall average rent, including both units that are occupied and units that are vacant, increased by 6.3 per cent compared to the previous year, according to Bond.
The gap between market rents for vacant units and paid-for occupied units also widened last year as average asking rents for vacant units soared. The average asking rent for a vacant unit was 43 per cent higher than the overall average rent for occupied units, the report said. In 2021, the gap was 10 per cent.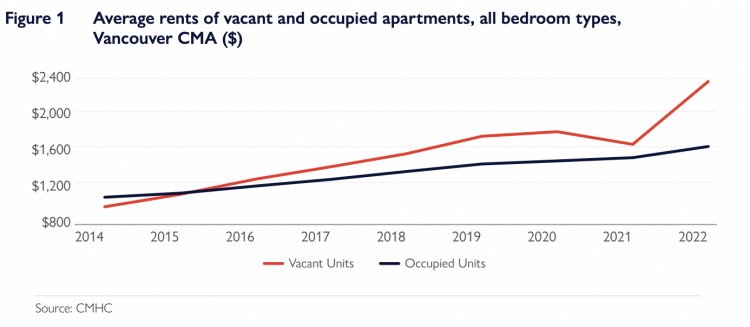 Bond said that new renters paid on average 24 per cent more than the previous tenant for a two-bedroom unit in Metro Vancouver. When a unit turns over to a new tenant, the landlord can set a new rental amount that reflects the current market, he said.
"When demand is exceeding supply, we have some adjustment that can take place when those units do turnover. And one consequence of this is that it provides a disincentive to moving and so we noted a lower turnover rate as well," Bond said.
In Metro Vancouver, the turnover rate is now 10.7 per cent, one of the lowest in the country, he said.
Despite the decline in vacancy, 3,805 purpose-built rental units were added to the regional market in 2022 – the highest annual increase since 1990, according to the CMHC. Four municipalities accounted for 87 per cent of this increase – Vancouver, Coquitlam, the City of North Vancouver and the District of North Vancouver.
"The vacancy rate went down and we're seeing strong increases in rents, which means that demand is just that much higher. We'll need to keep building more market rental, non-market rental and more affordable units in the coming years in order to meet the demand and have the housing system work well in terms of meeting the needs of renter households," Bond said.
Despite the low vacancy rate for purpose-built rentals, the number of available condominiums for rent increased by 7,850 units, roughly 9.8 per cent. The increase in units resulted in an overall vacancy rate for condominiums that sits at 2.2 per cent in 2022, according to the report.