Elizabeth May says the Green Party should play a "positive and constructive role" in what she predicts will be a minority Parliament following Monday's election.
The federal party leader made these comments while visiting all three North Shore ridings Saturday as part of a final weekend push to spread her party's message and energize volunteers during the final days of the election campaign.
"It all depends of course on the ultimate vote – and if we're in a position, such as the B.C. Greens were in 2017, where we have enough votes to work with other parties to help them hold the confidence of the house," said May, addressing a large group of Green supporters who had gathered near the Ferry Building Gallery for a sign wave and rally alongside herself and West Vancouver-Sunshine Coast-Sea to Sky Country candidate Dana Taylor. "Of course, it would be fantastic if everybody decided overnight that they'd had it with their other choices and they planned to vote Green."
A more likely outcome, however, would be that the Liberal Party will have the opportunity to form a minority government and consider "what parties are prepared to work with them," according to May.
Greens could help a minority Parliament by steering parties towards implementing strong environmental polices intended to combat the climate emergency, she said. May warned against voting for majority Liberal or Conservative governments, as well as the NDP, citing party platforms and policies that didn't address the climate emergency with the seriousness the emergency required.
"I do think this election is a referendum on climate," said May.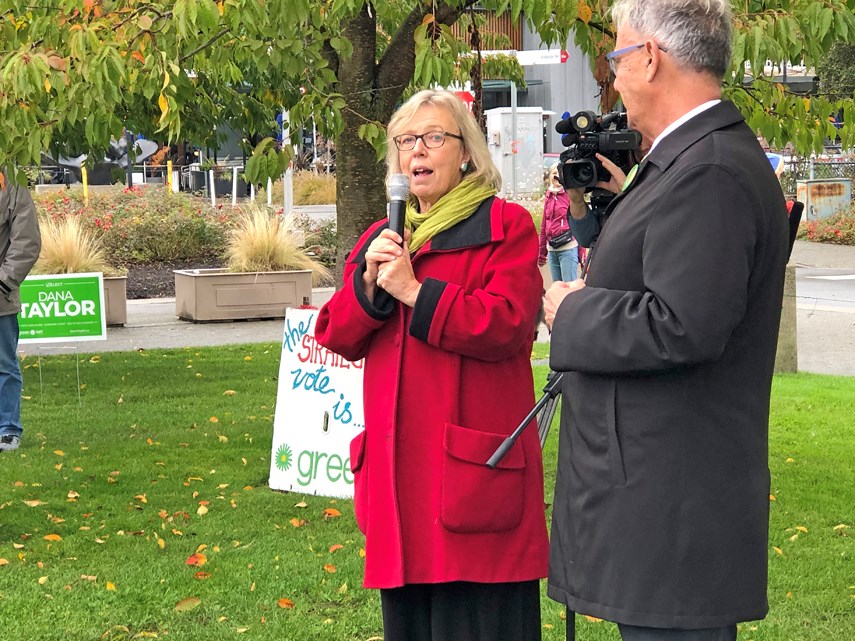 The federal Green Party has pledged to reduce Canada's annual greenhouse gas emissions to 60 per cent below 2005 levels by 2030, doubling the country's current emissions reductions targets. The NDP have proposed creating an independent office to monitor carbon emissions cuts, and are planning a massive green overhaul of much of Canada's infrastructure and housing, which the party also says will generate a lot of jobs. The Liberal Party introduced a federal carbon-pricing program this year and are aiming for net-zero Canadian emissions by 2050, while the Conservative Party opposes carbon pricing, and has proposed making Canada into a world leader in exportable green technology.
May said she was feeling very optimistic about her party's chances across the country come Monday's election, but wasn't specific about the number of seats she thought the Greens had a realistic chance to pick up.
October 19, 2019
The Green Party held two federal seats when the election was called last month, an improvement over the 2015 election which saw a red tide of Liberal support diminish the Green's share of the popular vote to its lowest percentage since May took over the party in 2006.
But as the spotlight on the climate crisis has continued to shine even brighter, and bolstered by a growing number of Green seats in provincial parliaments, May said the federal party had gained momentum. Asked if she would step down as party leader if the Greens didn't get more than two seats in Parliament, she said she had no intention of moving aside. "All that matters to me is that we get real climate action," she said.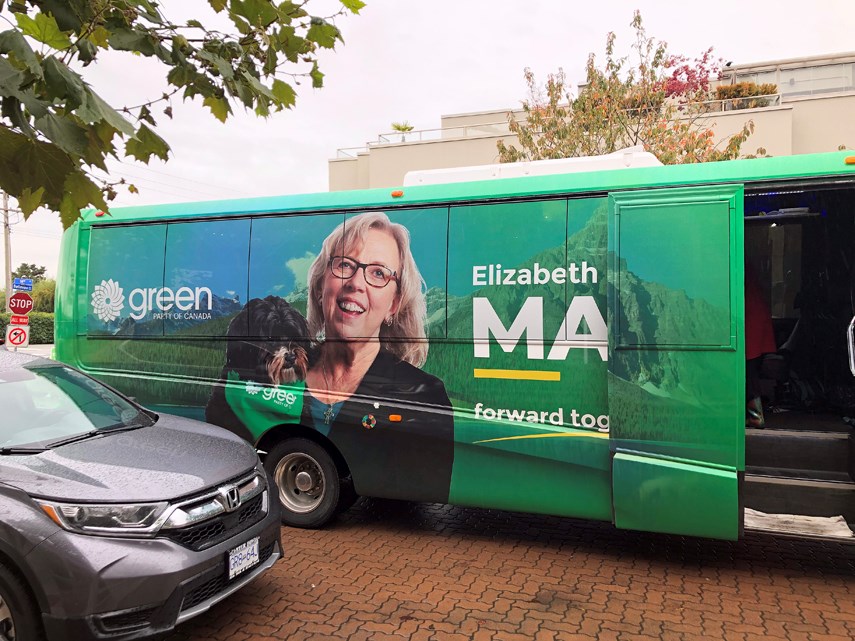 On Saturday, May started her day campaigning alongside West Vancouver-Sunshine Coast-Sea to Sky Country candidate Taylor. The duo, along with supporters, staged a rally at the intersection of Marine Drive and 14th Street in West Vancouver where they waved placards at passing motorists. From there, May boarded her biodiesel-fuelled campaign bus and paid a visit to North Vancouver Green candidate George Orr. After rallying volunteers and energizing supporters there, May was set to head to Burnaby North-Seymour riding to support the campaign of candidate Amita Kuttner.
"It's clear that the Liberals won seats here that are imperilled by the broken promises – by buying a pipeline, by pushing forward projects that increase greenhouse gases," said May.