Liberal candidate Patrick Weiler has won the Sea to Sky riding, cementing that party's hold in the Squamish area since they unseated the Conservatives in 2015.
Weiler took the seat for the West Vancouver-Sunshine Coast-Sea to Sky Country during the federal election on Oct. 21,  with a hearty 5,000-vote lead by the end of the night.
Voter turnout in the Sea to Sky riding was 67 per cent.
This marks Weiler's start as a politician. He takes over from Liberal MP Pam Goldsmith-Jones, who declared earlier this year she would not be re-seeking her seat, saying she wanted to spend more time with family.
He will be the second Liberal candidate to represent the riding since Goldsmith-Jones unseated Conservative John Weston.
"I'm feeling incredible right now,"  Weiler told The Chief Monday night. "There are just so many things that are running through my mind. I'm so thankful for the amazing team I've been working with, especially the last few months, and really grateful and humbled by the trust that West Vancouver-Sunshine Coast-Sea to Sky Country has put in me."
Asked what his win means for Squamish, he said he thinks it is too early to say exactly what will happen in town.
"I'm going to be the absolute best representative I can be for the entire riding, and what that's going to mean is making sure I'm engaging the best way that I can with government, with business, with civil society to make sure we're moving ahead on shared priorities," he said.
 "For me, really, that's things like affordable housing, that's transit, that's making sure we continue to have and build upon a strong plan to fight climate change and having really robust environmental laws."
It was not an unexpected result — polls have given Weiler a healthy lead in the Sea to Sky area for some time now.
Weiler garnered 22,135 votes, or 35 per cent, while his next closest competitor, Gabrielle Loren of the Conservatives, had 17,106 votes of the 63,527 cast, or 27 per cent.
 "We're all very amicable," Loren said of her group of candidates. "There was very little mudslinging."
"We're all going to be living in the riding at the end of the day," Loren told the North Shore News.
 "We kept our cool. We kept our respect."
 On national division, Loren said: "I think they could've learned from our campaign."
 "Patrick won. There's only one winner," she said, consoling a supporter.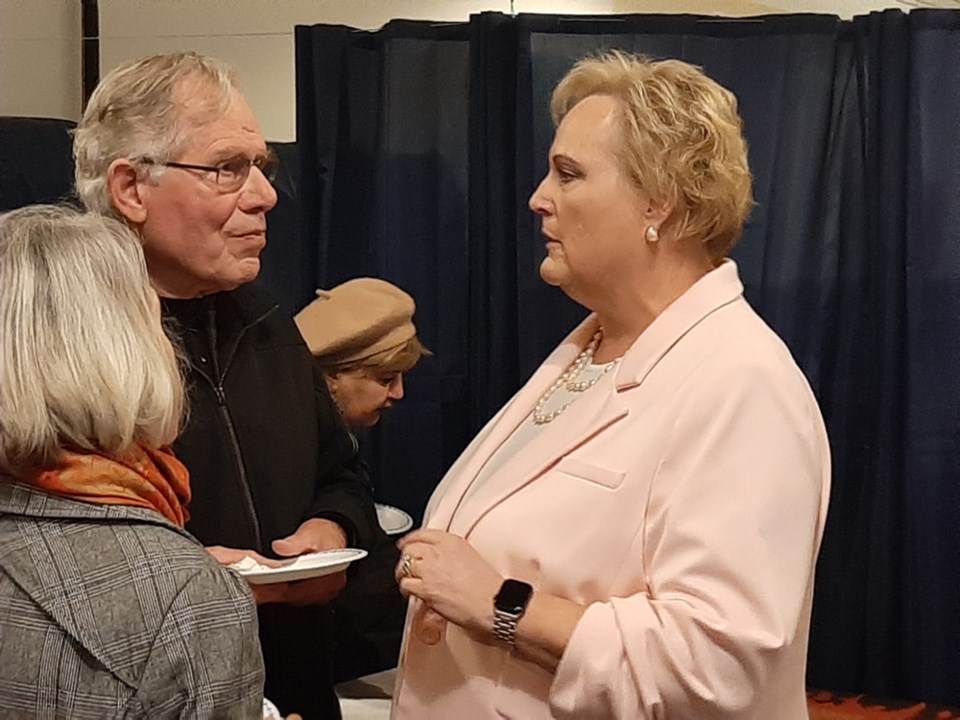 The Green Party's Dana Taylor had 14,143  ballots cast in his favour or 22 per cent, while NDP candidate Judith Wilson trailed at 8,814 or 14 per cent.
 Robert 'Doug' Bebb of the People's Party of Canada took 983 votes, while 206 ballots were cast for Rhinoceros Party Candidate Gordon Jeffrey. Independent Terry Grimwwod had 158.
Asked what the campaign has been like for him, Weiler said it has been "incredible."
 "And for someone like me who's grown up in different parts of riding, it's really given me a chance to have an even deeper understanding of it, for the opportunity to chat with people at the doorstep, on the phone and private meetings. It's really given me a whole new appreciation, really, for the entire riding," he said.
He acknowledged that replacing Goldsmith-Jones is no small task.
 "Those are very big shoes to fill. Pam was an incredible MP, and she's someone who's been a great mentor to me and that I've learned a lot from," he said.
 "She was so plugged into the entire riding, and it's really important in this riding, because it's a huge riding, it's very diverse, it's spread out. It's important you spend the time to be there, and be seen to be there, so very diverse concerns are being represented. I've learned a lot from how she's done that, and I want to pick up on how exactly she went about doing that."
The Green candidate, who came in third place, struck a resigned tone about his finish.
 "We were all hoping for something better, but third place is an improvement over what we did in the past, so that we're certainly grateful for," Taylor told the Coast Reporter Monday night.
"Being on the ground, speaking to people, certainly lots of interest in the Green Party. We have a bit of movement in that direction, but clearly not enough to win the prize."
Asked what he thinks held the Greens back from breaking through to lead the riding, Taylor said, "I think it's tribalism. I think people are very married to where they come from, how they vote."
The fourth place finisher, Judith Wilson, wasn't surprised by the result.
"The party was in the neighbourhood of six per cent and we're over 12 or something, so we must have done something good in the campaign," Wilson told the Coast Reporter Monday night.
"When you come in late to a race, and you haven't done a lot of groundwork in the riding itself you can't expect to walk in and capture people's imagination and their respect right away like that… I'm not terribly disappointed."
Thank you, Canada

What a night – and what an unforgettable journey this campaign has been.

With our new NDP caucus in Ottawa, I'm incredibly excited to continue our critical work to achieve the priorities that we've heard from people across this country. #elxn43 #ElectionDay

— Jagmeet Singh (@theJagmeetSingh) October 22, 2019
Bebb, on the otherhand, was disappointed in his fifth place finish and about how the People's Party did overall, with its leader Maxime Bernier losing his seat.
"It was not what I wanted. I was hoping to get five per cent at least, to kind of put us on a footing for a next go-around," Bebb told the Coast Reporter.
"I think we just lost the country. Quebec has clearly voted in self-interest. You're going to watch Alberta follow suit. And I think we're going to have a lot of division in this country now, and I don't think Canada is going to last for 10 years…This is probably the end for Confederation."
With his confirmation as a candidate in late August, Weiler entered the race relatively late.
A candidate with credentials in environmental law and First Nations relations, the 33-year-old lawyer told The Chief the party's climate change program inspired him to run.
During the all-candidates debate in Squamish, he promised to lobby the federal government for money that could be used to support tourism infrastructure.
He trumpeted the Liberals' lowering of small business taxes to nine per cent, down from 11.
Regarding climate change, he said his party would encourage the creation of green technology companies such as Carbon Engineering.
In the questionnaire The Chief sent to all candidates, Weiler also promised to maintain and increase DFO — Fisheries and Oceans — operations in Squamish.
Under Liberal government last term, Squamish was, for a time, in danger of losing its DFO office. Conservationists pushed back against this, saying the problems it would create with enforcement would endanger fish.
Goldsmith-Jones fought back against the cut, saying that it was an oversight on part of the federal government. The office has since stayed.
By the end of the night, the Liberal minority government.
With 157 seats projected for the incumbent party and 121 for the Conservative Party, Justin Trudeau will once again be prime minister, with the expectation that the Liberal party will be asking for support from at least one other party to form government, likely the NDP, which garnered 24 seats. The
Thank you, Canada, for putting your trust in our team and for having faith in us to move this country in the right direction. Regardless of how you cast your vote, our team will work hard for all Canadians.

— Justin Trudeau (@JustinTrudeau) October 22, 2019
In the running for 2019 in the Sea to Sky riding were seven candidates:
The Conservative's Gabrielle Loren was the first to announce her campaign for the riding. The West Vancouver accountant previously served as president of the West Vancouver Chamber of Commerce twice, and currently sits on the Lions Gate Hospital Foundation.
Running for the Green Party was Dana Taylor, who previously ran in the provincial election in 2017, coming in second place in the riding. He also served as a municipal councilor in North Vancouver, and was a member of the Save Howe Sound Society.
A new party this election was the People's Party of Canada. For the Whistler-based candidate, Robert "Doug" Bebb, this was also his first time running for office. The semi-retired mechanical engineer was seen on campaign posters with slogans calling to end political corruption and reduced immigration. At the all-candidates debate in Squamish, he said the country is not in a state of climate emergency.
This was the second federal election Judith Wilson has running in. Both times she stepped forward for the NDP. The Sunshine Coast-based family lawyer ran in 2006, earning 20 per cent of the vote. She said it's important to reduce high tuition costs and to improve medicare, particularly dental coverage.
Gordon Jeffrey of the Rhinoceros Party is a full-time server in Whistler. In an interview with The Chief, he said he was disillusioned by the major political parties and hopes to discourage people from voting strategically.
Three days before the deadline to run, independent candidate Terry Grimwood put his name forward. The founder of the yet-to-be-recognized Canada Fresh Party, Grimwood also attempted to run in three by-elections this year. At 20, he was elected to the city council in North Vancouver, where he served two terms. His policies largely focus on meeting cross-country and regional transportation needs by building community hubs.
In the last federal election, in 2015, 73.2 per cent of eligible voters in the riding cast their ballots — 65,485 people out of the riding's 89,459 possible voters. As of Oct. 15, Elections Canada estimated 4.7 million people voted at the advance polls across the country.
The West Vancouver-Sunshine Coast-Sea to Sky Country riding is composed of 13,008.19 square-kilometres and, according to the 2016 census, a population of 119,113 people.
In the 2015 election, the results in this riding show the Liberal won with 54.7 per cent of the vote. Conservative John Weston was second-up with 26.25 per cent, with the NDP and Green Party earning less than 10 per cent each. The Marijuana Party — now deregistered in the riding — and the Marxist-Leninist Party both tallied in at less than one per cent of the vote each.
~With files from the Coast Reporter and the North Shore News