Walk up Cleveland Avenue and into The COMMON and a huge lazy hound wanting a belly rub might greet you. While the vibe is definitely laid-back, not everyone in the space is quite so docile. Some are working like dogs.
 The Common is one of two coworking spaces in Squamish, hubs of activity where people from a range of business sectors opt for shared workplaces rather than renting their own offices or chair-surfing at cafés or plugging away at home.
Peter Buchholz, who founded The Common in 2017, actually doesn't think the term coworking captures what he's going for with this venture, though he hasn't invented a single term that quite does the trick. "What's unique about our space is we're a venue space," he says.
"We do a lot of events. Traditionally, coworking spaces are focused on their members for events, like business plan writing and accounting and things like that. We want this place to be a community hub, so we launched it with the intention of doing a lot of events here."
From 9 a.m. to 5 p.m., it's largely a shared office environment, with a range of folks, some of whom have chosen a package that gives them a designated desk and others whose monthly fee lets them take whatever space is available.
After hours, it can turn into a 52-seat screening room that hosts film premieres and screenings, seminars, product launches, strategy sessions and community-focused get-togethers. The daytime crowd is diverse. There are independent businesspeople as well as employees who choose this space over a commute to the city. At the height of summer, they get some reverse-snowbirds — Californians, for example, who escape the heat at home to do some climbing or kite-surfing and, in between, use The Common to keep up on the job.
There's a panini press, coffee, even a beer keg and Friday afternoon barbecues. Clients can book a designated space for privacy, duck into a phonebooth-style alcove for a quiet chat, have a small group confab in an airy, glass-enclosed outbuilding or, in good weather, lounge in a small but welcoming backyard. "It's not a library," Buchholz says.
"We have it set up so there is a bit of music in the background, a bit of white noise. Some days it's quiet and everybody's really focused and on some other days, everybody's chatting. It's a really social space. Everybody who works here says it's very efficient, they get more work done here than they would at home. At the same time, they are here because they want to be around people."
 Why choose a coworking space over a café? Buchholz says, for one, you can avoid the sound of the espresso machine blasting in the background but also, if you're a conscientious café consumer spending a lengthy period on the store's Wi-Fi and using their space, you might spend $20 a day on coffee and assorted snacks. That's about the cost of a day at The Common, he says. And you can bring your lunch and enjoy a more business-oriented ambiance.
Both Buchholz and Zanny Venner, one of the founders of the other coworking space in town, agree that the concept is ideal for synergies. Venner, who co-founded ALIGNED COLLECTIVE along with Susan Chapelle, a former Squamish town councillor, as a not-for-profit enterprise, says the synergies that happen organically between clients are among the top benefits.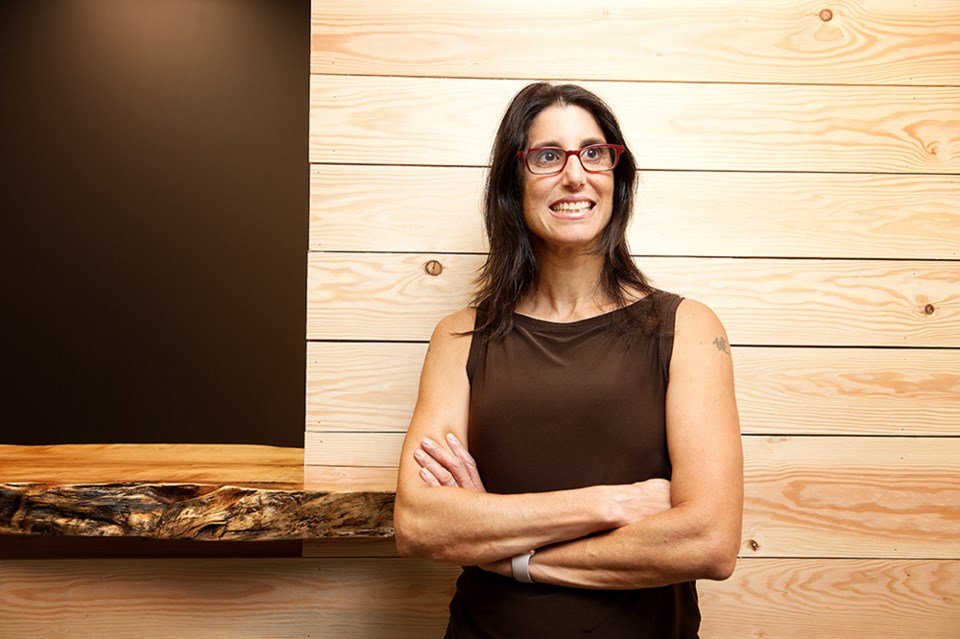 "Whether that happens at lunch or you're getting a coffee or you're sitting beside somebody, I've seen a lot of people say, 'I need a graphic designer to help me design some graphics for my marketing plan' or people need an accountant," Venner says. "And because people know who is working in here, there are just these really beautiful encounters between people that have been naturally evolving. As we grow, we would like to be doing more curated professional development programming and services — this is all part of our long-term strategy when we have the capacity and the funds to do so." Meanwhile, since opening their 3,000-square-foot space two years ago, Venner and Chapelle have seen a huge range of people take up their offer of space.
"The people are freelancers and contractors, independent business owners and early and established startups," says Venner. "We have people from graphic designers, to accountants, to architects, to filmmakers to people who work for insurance companies. We have a bunch of marketing people in here. We have people working in the cannabis industry. There is a hodgepodge of people who are just looking for space that's professional, where they can focus, where they can meet other people."
Opening 24-7 from the start was important to them, to accommodate the sometimes unusual tempo of people's schedules. The coworking sector has been growing for a few years, but the not-for-profit model chosen by Aligned Collective is unusual. The choice was both philosophical and practical. The partners wanted to create a situation where revenue is reinvested to promote more programming and provide more opportunities for clients while supporting other non-profits and co-ops. On the practical side, real estate in Squamish has spiked in recent years and, as a not-for-profit, Aligned Collective has been able to leverage grants for startup costs and are in the process of applying for more so they can expand programs, seeking out groups that support community economic development, especially in rural areas. They also found a friendly ear at Vancity Credit Union, "and they very much aligned with our vision and got behind us."
Like the competition across town, Aligned Collective also provides event space and a boardroom area for workshops, events, and seminars. Similarly, clients can book a designated desk or opt to float. The large size of the space also accommodates five businesses that have permanent spaces within the Aligned Collective facility, in distinct offices suited for two to five workers. Squamish is only going to attract more people as it grows in the role of a professional, technological and economic hub, Venner contends.
"There are a lot of very smart people working here right now."
Meanwhile, the smaller scale of town means less competition in specific areas. "They might be coming in from Vancouver or somewhere else in a bigger city that is just saturated with people who do the same work," she says, "but if you do move into a rural-based economy and you can bring in your skills and your knowledge, I think it creates another stage in your life, of excitement but also a professional space to come and do that."