Though Squamish's population tends to pride itself on being rain-or-shine proponents of time spent outside, sometimes it's easier to let the weather win and head indoors.
 Whether it's a Pro-D day, a snow day, or Saturday, there's plenty of local spots for kids —and parents—to let off some steam. Though traditional trampoline parks have gained somewhat of a dangerous reputation in recent years, Squamish AIRHOUSE doesn't fit in that category. Airhouse isn't a trampoline park, but a progressive, freestyle trampoline and gymnastics-training centre equipped with professional coaches. It's been providing the general public with a place to practice their tricks since opening in December 2015.
"I'd been to places like Red Bull and a few of these other high-performance training centres that are typically reserved for elite athletes and professionals. We just wanted to bring that level of training and those training techniques and ideas to the general public," explained Airhouse co-founder Rodney Wilson.
Over the summer, the facility underwent a renovation that saw a handful of its trampoline replaced with gymnastics equipment, like a spring floor and balance beams. With the pre-existing skate ramp, "Now we're able to also offer gymnastics and parkour," said general manager Tom Pelgrum. To that end, Airhouse's main goal is to help its young clients develop into athletes, Pelgrum continued. Whether that's skiers, snowboarders, mountain bikers, surfers, figure skaters, dancers, or anything aerial, you can learn and train on the trampoline—or in this case, on the spring floor or skate ramp," he said.
"That will always be our goal, but in order to get there you need to start somewhere. We have toddlers from three years old all the way up to X Games champions who have used our facility to train." Airhouse offers a variety of drop-in sessions for jumpers aged three and up, as well as lessons for individuals, teams, and high-performance athletes.
Youth camps are available during holidays and Pro-D days. Have you ever sat in front of the TV, thinking, 'Man, I wish I could give that a try?' Well, if that thought crossed your mind while watching the hit competition show American Ninja Warrior, you're in luck.
The sprawling Squamish NINJA GYM opened in June 2019, a year and a half after owner Gary McFarlane first came up with the idea while — you guessed it—watching ANW. It's akin to a giant indoor playground (7,000 square feet, to be exact) where you can learn to overcome challenging obstacles, like the Warped Wall or Salmon Ladder, and track your progress. According to McFarlane, the clientele his business tends to attract came as a surprise.
"I thought it was the athletic end of Squamish that would be the right demographic, but turns out it's kids," said McFarlane. Though he initially anticipated crowds of fully-grown adrenaline junkies to pack the gym, he now estimates that approximately 80 per cent of the Ninja Gym's clientele are children. That's not to say adults won't feel comfortable in the space. In addition to open gym availability, the Ninja Gym offers structured weekly training sessions, as well as specific nights for adults, climbers, ladies and teens.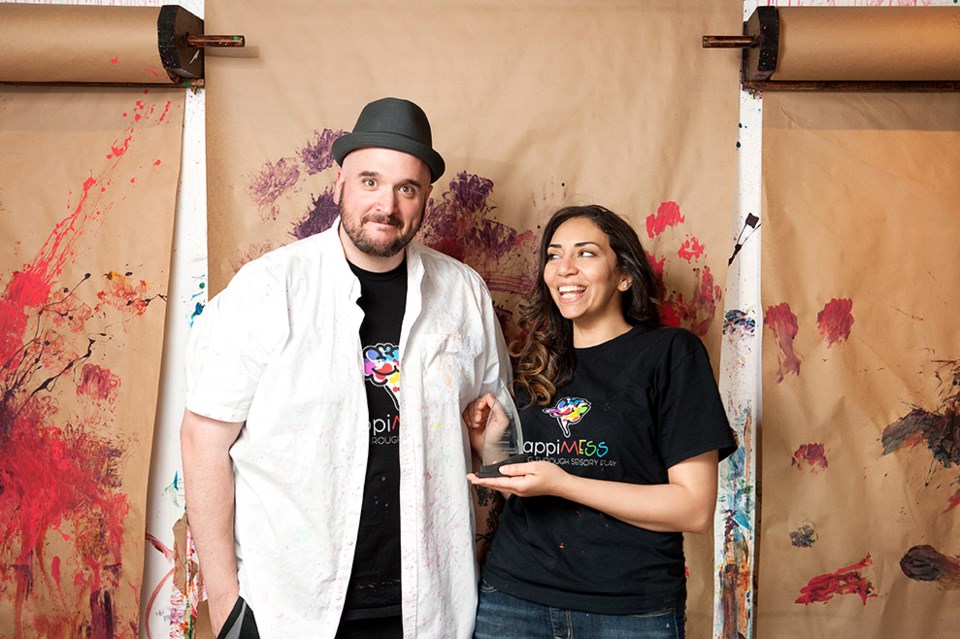 If your child is looking to get in touch with their creative side, look no further than HAPPIMESS. Since first opening in November 2016, the facility allows children to learn and develop through messy sensory play using materials like slime, rice and the taste-safe paints you can see splattered around the walls — something that would make most parents balk if these activities were taking place at home. After discovering their daughter was experiencing sensory sensitivities while living in the Middle East, HappiMess owner-operators Marcus Monopoli and Dalia Shehata turned to sensory play programs, eventually noticing a remarkable difference. "When we moved back here, we were just looking for a place to take our kids to play—a sensory play area, because it's fantastic for brain development, vocabulary," and much more, said Monopoli.
But in Squamish, those drop-in-style opportunities weren't readily available to the public — hence, HappiMess was born. Now, the bright, welcoming space offers programs geared at everyone from babies to adults.
That includes daytime drop-in sessions for babies and toddlers, adult paint nights and structured after-school art programs, classes and camps where school-aged children can hone their skills under the instruction of Shehata, a professional artist. SQUISHY'S FAMILY FUNZONE is another great Squamish spot for weather-independent fun. The 2,400 square-foot indoor playground includes three soft play structures, games, a rock-climbing wall, a 25-foot helix slide and much more. The facility also offers laser tag and nerf guns — an ideal birthday party activity — during evening hours.