Squamish's Michael Schauch had been dreaming since he was a boy of climbing a mountain in the Nepalese Himalayas, and, around eight years ago, when he was then in his early 30s, he hoped to make that dream come true.
But as the local mountaineer and author learned, sometimes ambitions have to be let go, so that in their place, something greater can take root.
"I hope that the story will touch them in the heart as this whole journey has impacted me," said Schauch.
"I could never have planned that this was the way life would have gone for me when I set out to climb that mountain. But, if we don't get too attached to an outcome, sometimes the most meaningful and beautiful moments are right there beside us. And, sometimes, we just have to be open and accepting to receive them."
I
t's one of the key takeaways outlined in Schauch's climbing and travel memoir, A Story of Karma; Finding Love and Truth in the Lost Valley of the Himalaya, which begins with Schauch pursuing a lifelong dream he had as a mountaineer — a goal that gets sidetracked.
Instead, he finds himself forging a bond with a little girl in a Himalayan village that has lasted until this day.
In 2011, hoping to take a journey off the beaten path, he had been looking at photos of Nepalese mountains residing around a place known as the Lost Valley of Nar Phu, named after its two respective villages, Nar and Phu.
It was a region that, at the time, had only recently started to open up after a long period of being closed to outsiders. Looking to go off the beaten path, it presented an attractive opportunity for Schauch.
As he looked at his friend's pictures, Schauch found a towering spire shaped like a pyramid that he would later find out was known as Chako, which had been ascended once by a Japanese climbing party.
At the time, however, Schauch knew little about the peak except that it seemed to call to him.
"I saw this picture of this pyramid mountain, and that totally floored me," said Schauch.
"I thought, 'This is it, I've got to go try and climb this mountain.' Some mountains just have that effect on me. They just hit me in the very core."
He would find himself in the Himalayas in 2012 answering that call.
He and his wife Chantal assembled a team of people in hopes of documenting life in the valley before modernity began to encroach on an old way of life that had been preserved for hundreds of years.
Schauch also sought to climb the mountain which had captured his attention.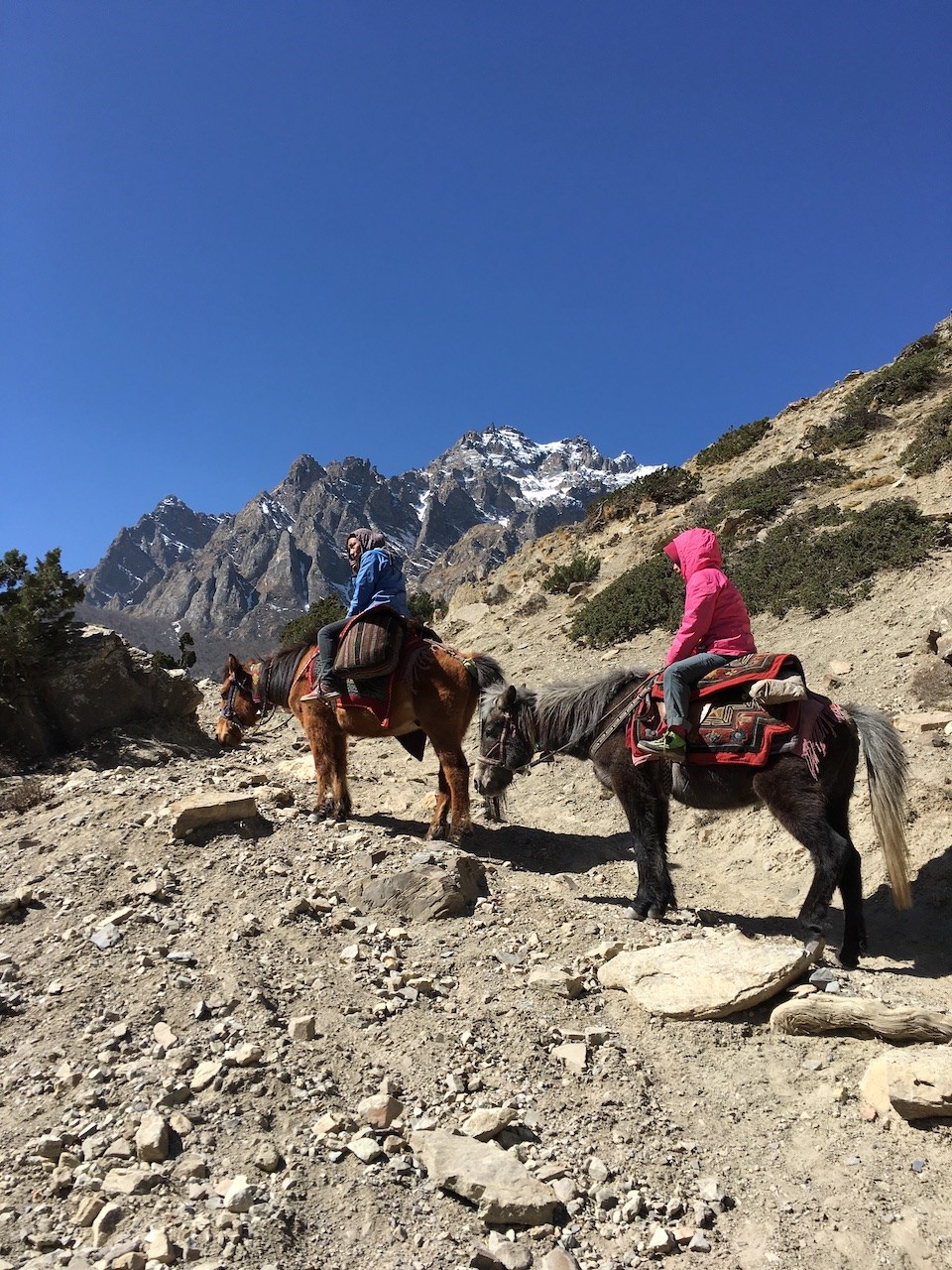 But one by one, circumstances turned against him. A pack mule bearing much of his climbing gear ran off. An impregnable snowstorm battered the group.
Schauch and his party would find themselves beaten back and trapped in the village of Phu, his dream of climbing a mountain in the Himalayas shattered.
"I was going through this self-inflicted identity crisis," he said with a laugh.
But from there, a new, and ultimately more fulfilling adventure was born.
He and his party got to know the local village people of Phu and shared what he considered to be beautiful experiences with them. He then trekked to the nearby community of Nar, and there, he and his wife met a little girl who changed their lives forever.
They found Karma, an affectionate 7-year-old girl who was determined to finish her education — her main ticket out of a difficult, impoverished life.
This would start Schauch on a mission to assist her and her sister, Pemba, in finding a suitable school.
Schauch and his wife eventually found Karma spots at the Shree Mangal Dvip School in Kathmandu, which provides free education and housing for over 500 children from the most vulnerable and remote villages of northern Nepal.
This was no small task, as there was so much demand that school officials were turning people away at the door.
But, as luck would have it, during one email correspondence when back in Squamish, Schauch found out that the head of the school was getting treatment in Richmond.
They met him and were able to sponsor Karma's education as well as that of her two other sisters.
Years later,i n 2018, Karma and her sister would find themselves in town for a year.
"They were in Squamish. They were living here with us for a year going to the Squamish Waldorf school and that was just one of the most beautiful experiences of my life," Schauch said.
They were able to visit again this past January, just before COVID-19 hit.
However, since then, the pandemic has forced the Shree Mangal Dvip School — along with other educational institutions — to close, as COVID-19 has been ravaging much of Nepal.
Karma and Pemba, now 16 and 12 years old, are back in their village waiting for their education to start again.
In the meantime, Schauch and Chantal have been contributing their own funds and raising money for the Shree Mangal Dvip School in Kathmandu for the last eight years. 
"Pemba said to me one time she felt really lucky because she felt she had three homes now," said Schauch.
Those looking to find more about Shree Mangal Dvip School can visit https://himalayanchildren.org/
More details about Schauch's book can be found at www.michaelschauch.com.
It's available to purchase locally at Armchair Books, Valhalla Pure, Climb On, and at the Squamish Adventure Centre.