Lou and Rocky are back on the case in Squamish.
The inquisitive — some would say meddlesome — now-16-year-old protagonist Lou and her sidekick pooch return in the second installment of The Squamish Mysteries series for middle-school readers by Inga Kruse.
This story unfolds where "Lou and the Whale of a Crime" left off.
This time, one big mystery Lou is seeking to solve takes place after a travelling carnival comes to town.
In "Lou and the Carnival Cold Case," there's a roller coaster mishap and a carnie's death to be investigated.
"It follows the same pattern of two mysteries. Two big events. In the first book, it was people stealing from Sam's store and then it was the big whale rescue," said Kruse. "In this book, Lou has to go and find Sam and Rocky, because they got lost in Squamish."
If that is not enough, there is also the very mysterious death that she has to tackle.
"Bad guys are still around," says Kruse.
Never one to shy away from the big issues in life even when writing for teens, Kruse's latest delves into the impact of dementia.
"I did a lot of research into how a 16-year-old would try to handle and respect and deal with someone who has dementia. It is basically a how-to on kindness in that relationship."
The story is again vividly illustrated by Trevor Watson.
While Kruse is in search of a Sea to Sky retailer for her self-published books, currently, "Lou and the Carnival Cold Case" is available on Amazon and Kobo.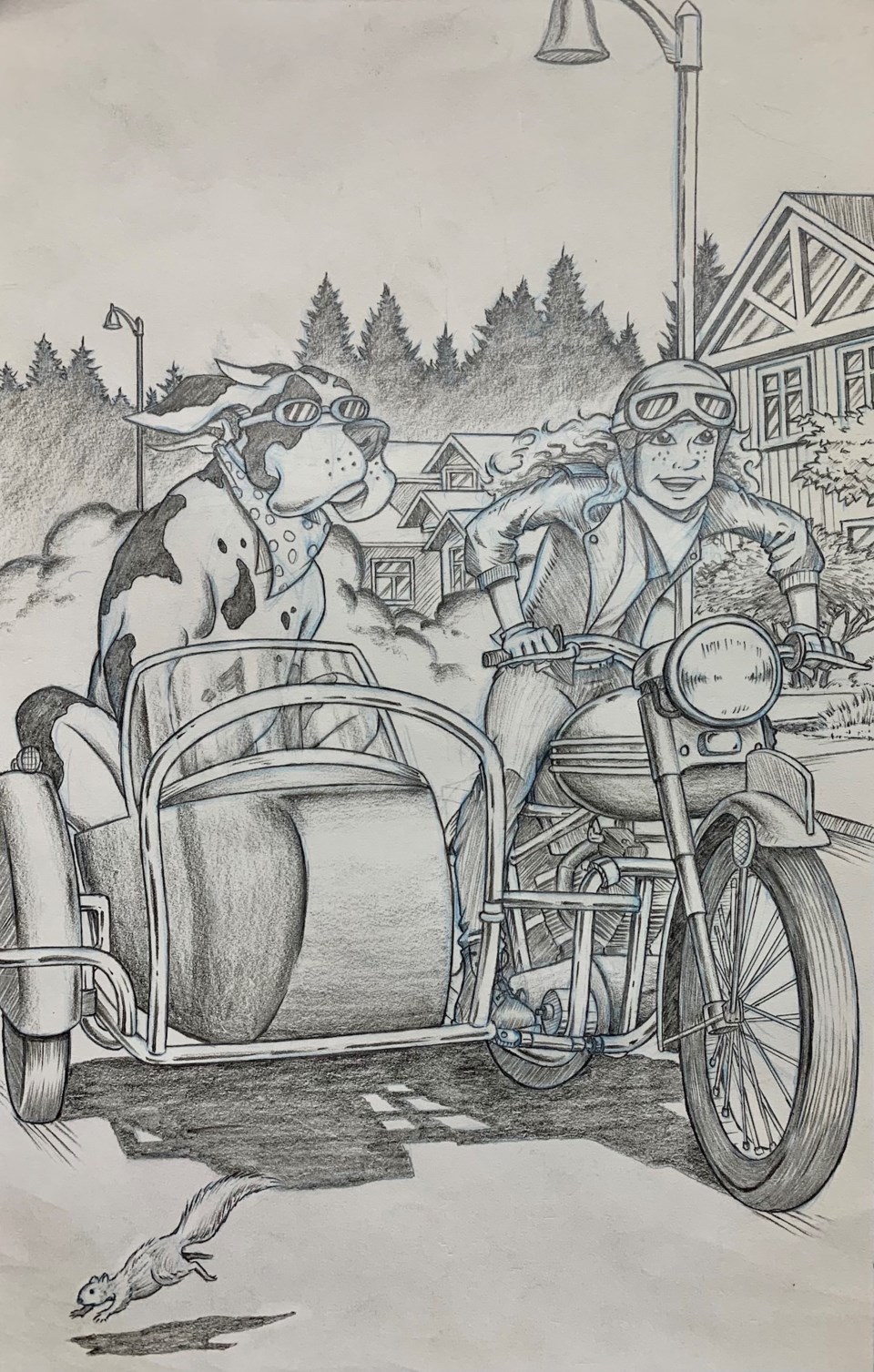 Bonus material
Kruse has also launched an associated free novella on her website that readers can download.
"A Very Rocky Adventure," follows what Rocky gets up to when Lou isn't looking.
This laugh-filled side story came about when a young fan said she would like to have stories from the perspective of Rocky. The nine-year-old also wanted Rocky to have a bird friend, and so Rocky finds an injured parrot in the tale.
"I just got completely sucked up into... these seven chapters of what Rocky gets up to — his shenanigans when Lou isn't around," she said.
"I made myself laugh."
Some of the laughter came from her research on what parrots in real life say.
"I had so much fun with it," she said.
While Kruse continues to have health struggles, — she was diagnosed with Stage 4 lung cancer in March of 2014 — these stories are her distraction, she said.
"Cancer is never friendly," she said, with a chuckle. "I try to put that in a box and do what makes me happy, which is finding out what parrots say."
For her next book, Kruse is looking to get into the cozy mystery book genre — which follows a particular murder-mystery formula.
"There is no foul language, no drinking, no sex... and there has to be a murder... and all in one place," she said.
She already has a main character in mind.
To keep up with Kruse, go to her website: www.ingakrusewrites.ca.