If you have walked across, played a sport or watched a game at Squamish fields, you have likely seen the resident Canadian geese, and the feces they leave behind.
Goose dropping, can carry bacteria that are unhealthy for humans including E.coli, salmonella, histoplasmosis, campylobacter, coccidia, and giardia.
Estimates vary, but geese can create 1.5 pounds of droppings per day, according to the most conservative estimates.
This field and this issue are not unique to one field or town. Canadian goose can be found throughout North America, Northern Europe and beyond.
"We have not found the goose poop to be overly problematic on our school district's fields, so we let the natural process of biodegrading take its course," a spokesperson for the Sea to Sky School District told The Chief.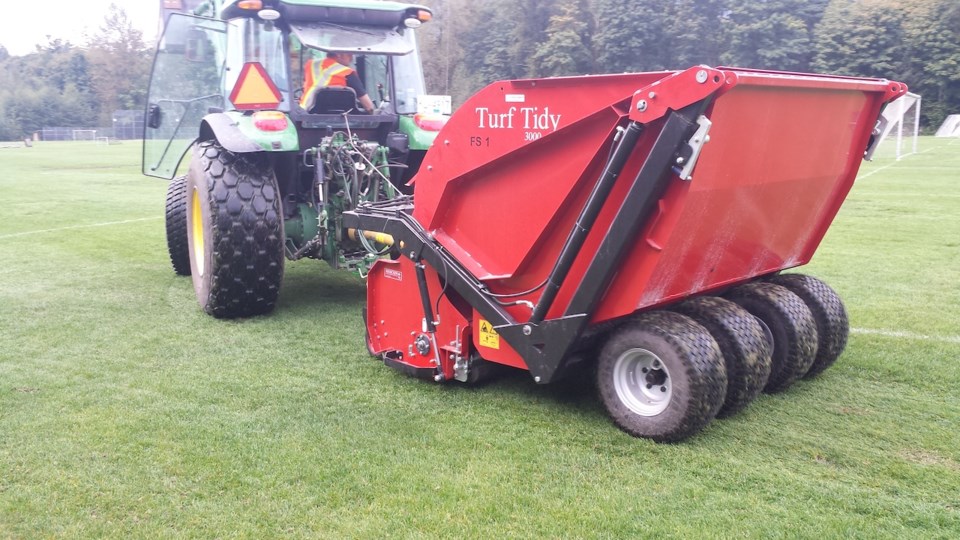 The District of Squamish purchased a field sweeper in 2017  to help mitigate geese droppings on the Brennan Park playing fields, which have become a problem over time, according to District staff.
Other techniques, such as bear bangers and fake wildlife deterrents, have also been used to manage or relocate the geese population, but they were unsuccessful.
"The field sweeper works well in dry weather and has multiple uses ranging from picking up the droppings to grass thatch removal," said the District's communication manager Christina Moore, in an email to The Chief.
The machine has its limitations in wet weather, Moore said, so is less effective mid-October to January when it's harder to find the required two dry days in a row needed to use it.
"In wet weather, the field sweeper can damage the grass and is not effective at sweeping up wet material," she said.
Mike Hicks, a director on the board of the Capital Regional District (CRD) on Vancouver Island, says he has found the solution to the problem, which his community has also faced.
"We have a problem in our home region — a monster problem," he told The Chief.
Hicks purchased a Tow and Collect machine from New Zealand that he says works like a charm.
"I have been looking at this for a number of years," he said.
"As you pull it, the wheels turn and there is a reverse mechanism that has brushes that are turning as well... and they flip the poop up into a hopper."
The poop collector is six feet-wide tire to tire and there is a four-foot sweep on it.
It works in any weather, he said.
He bought it with $10,000 in federal gas tax money, a fund local governments can use for infrastructure and recreation spending. Hicks dubbed the machine as recreation spending.
He operates it himself on Sooke fields.
"On Saturday... it is the end of the year soccer gala thing and they need all three fields and there's going to be hundreds of kids. Tomorrow, I will go out and spend two hours and there won't be a piece of goose crap on it. Isn't that cool?"
Hicks acknowledged the geese always come back, but the machine makes it more manageable.
"Bottomline, it works," he said. He said he would encourage other local governments and school boards to look into buying one as well.
"You turn fields that are just disgusting into beautiful fields."
Since the story of his solution reached readers through the Sooke local newspaper, The Sooke News Mirror, Hicks has been fielding calls [pun intended] from media across North America.
"With all the bad news in the world, it is a fun story," he said.