Launched with the echo of Squamish Nation drumming hanging in the air, a new era for Squamish begins.
The newly elected council was sworn in Tuesday evening at the Squamish Valley Golf Club.
After the council-elect was piped into the ceremony by Devin Biln of the Black Tusk Caledonia Pipers and Drum Band, Tsawaysia Spukwus (Alice Guss) welcomed all gathered to the traditional territory of the Squamish Nation. 
Judge John Milne then presided over the affirmation of office of Mayor Karen Elliott, and the oaths of councillors Doug Race, Jenna Stoner, Armand Hurford, Eric Andersen, John French, and Chris Pettingill.
A brief council meeting followed the pomp and ceremony.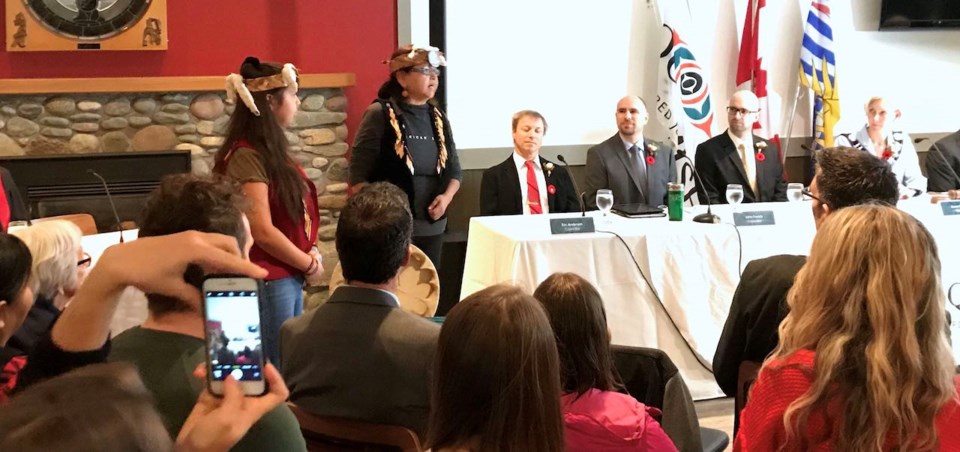 Elliott and Race were voted to represent the District on the Squamish-Lillooet Regional District. Stoner and Pettingill are alternates. Race was voted to represent the District with the Municipal Insurance Association of B.C. Hurford will sit on the library board for a one year term. Andersen will sit on the Smoke Bluffs Park Select Committee and French will sit on the Public Art Select Committee.
Each member of the new council took a few minutes to offer thanks to his or her familiy and supporters. Most also referenced the importance of the District's relationship with the Squamish Nation and offered praise for the council's dynamics as a group — they have had two days of orientation this week — and their ability to move forward together.
It was the fourth swearing-in ceremony for Coun. Race and he said it was the biggest audience he had seen.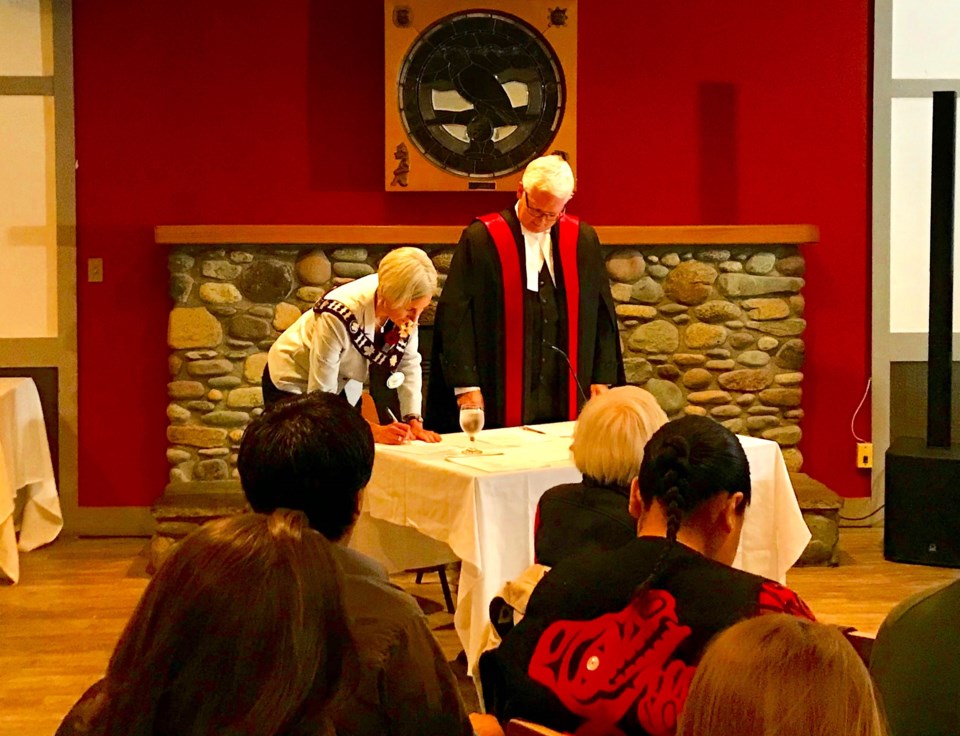 Elliott's inaugural address also spoke to what she hopes is accomplished over this new council's term.
"One of the most important roles as a council is to represent all the people of Squamish — not just the most buoyant cheerleaders nor the loudest detractors," she said. "Sometimes it is hard to hear those voices in the middle. Sometimes we have to go and seek them out, but they are there, and they are asking us to grapple with possible solutions that fall in between the two extremes of an issue."
Elliott also spoke of the importance of civility.
"I will always remind council to debate the policy, not the people and I ask our community to do the same," she said. "There's no place for personal attacks in the  public domain and I will protect our staff and our council members when this occurs."
While the night meant the beginning for the new council members, it meant the official end for the former council, including the conclusion of 13 years in public office for former mayor Patricia Heintzman.
On Monday, sitting in her cleared out office at municipal hall, Heintzman reflected on her swearing in as mayor in 2014.  Her elderly parents flew in from back east for the event.
We were all excited and motivated," she said. "It is an exciting thing to be doing."
She recalled, with a laugh, putting on the Mayoral Chain of Office and then discovering she had it on wrong. On Tuesday night, she helped adjust Elliott's chain before the start of the ceremony.
Heintzman wasn't nervous at her swearing-in, she said, because she had been a councillor for years and had a vision for how she would be mayor.
"I had been chair of the regional district the term before so that role of working with a CAO and [District] staff, I was already doing that with the regional district, so it felt like when I just started doing the mayor's job, it was in stride."
Heintzman was first sworn in as a newbie councillor under then-mayor Ian Sutherland. She said she can't recall much of that heady ceremony other than that she was wearing a camel-coloured jacket that has moth holes in it now.
She said it would be interesting to watch how some of the current new councillors adjust to their roles.
"The reality of decisions is they are not black and white — ever," she said. "As a councillor you are involved in things so much more so, you have more information than someone in the community. As someone in the community, you are just talking with your cohort, and they are often just supporting what you say… whereas, in a council position, you are going to see everyone's opinion and you have to weigh all those things."