When the Sea to Sky Division of Family Practice first opened their drive-thru COVID-19 testing site at the Shady Tree Pub, they tried to keep it quiet while they figured out how, exactly, to best provide care from the makeshift site.
But someone with "nothing but good intentions" posted the news on Facebook.
"We were expecting to swab maybe [a handful of] people on our first day and we did double, [what we expected]," said Monica McDonald, executive director of the group, which, in part, develops programs to fit the needs of Sea to Sky residents. "I don't know that there's a blueprint for operating a COVID testing site out of a pub."
The organization, along with some local doctors, had been trying to find a suitable location for testing since April. While testing is still taking place at the Squamish Hospital, as summer hit, it got busier with non-pandemic-related emergencies.
Then, in the last few weeks, local cases of COVID-19 began to increase. By Tuesday, Sept. 8, they had tested close to 300 people since opening.
"It's invaluable," said Dr. Christina Botros, a local physician who helped swab patients in the first days the swab clinic opened. "On the day we first opened, I worked swabbing in the morning and [at the] emergency [room] in the evening. It's so overwhelming that physicians are being called in to manage the extra swabs."
But the Shady Tree wasn't always the plan. One night, McDonald was out walking her dog when she passed by the local watering hole, which had to close its doors due to the pandemic.
"I thought, 'This might work,'" McDonald said.
She called up owner Eivind Tornes, who had recently put the space up for lease. Right away, he and his wife Terry jumped on board.
"He and his wife were here power-washing the cement and mowing the lawn," McDonald said. "They were so proud to give something. I think that's phenomenal."
On Friday, when The Chief visited the site, the couple was also on hand to help direct traffic.
"We got it up and running in two days," Tornes said. "Monica is the driving force behind it and the medical staff, they've been fantastic … I think it's a good thing to do for the community. If you can't operate the pub, this is the best thing I can do to help make sure people get tested."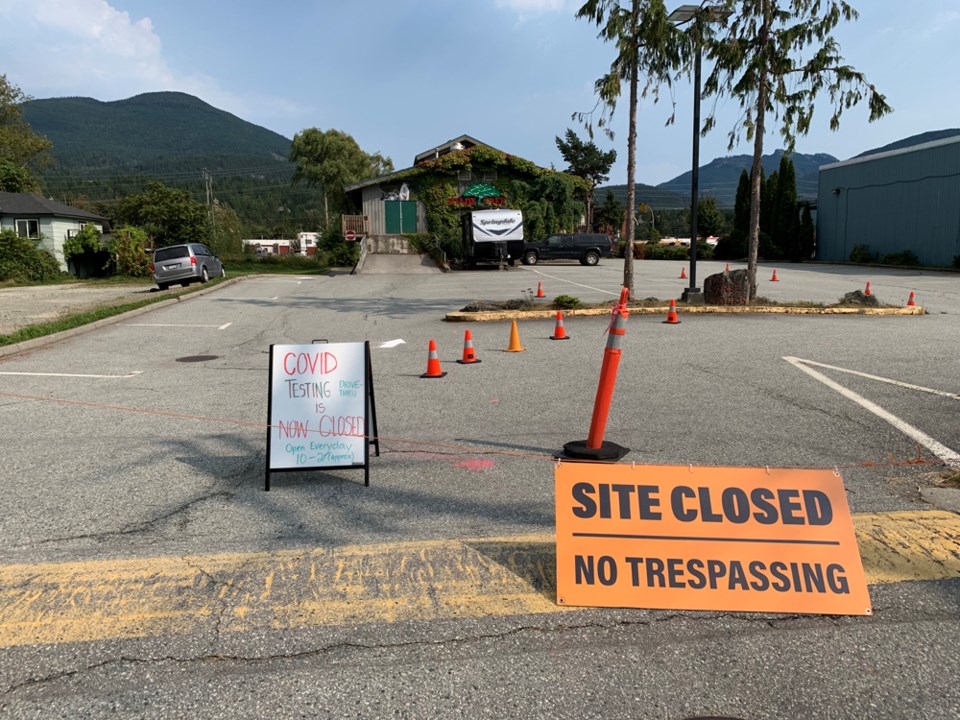 The site is open seven days a week —currently from 10 a.m. until 2 p.m., although that could change — with funding from the Ministry of Health until the end of the month.
"I would anticipate that we would be able to keep going until the end of October," McDonald added. "Past that, no one knows. Ideally, in a perfect world, it wouldn't be needed at all. I can't wait to be out of business." Right now, anyone with symptoms can drive up to the site and get a nasopharyngeal swab. Wait times have varied greatly from day to day since the site opened with a high of 58 swabs on the busiest day and a low of 18 on the slowest.
"The original plan was to have [the swab clinic] through the walk-in and I'm so glad that didn't work out," Botros said. "The flow around with the cars and people being able to stay in their cars has been so great."
After the test, patients are required to self-isolate until results are in. Anyone with a positive test will be contacted while patients must follow up for negative tests.
"I don't have statistics yet on how quickly we can move people through," McDonald said. "It has been variable. So today we had a remarkably fast day. People could drive in and they were swabbed and in 10 minutes they were done, start to finish. But most days, there's a wait. So our real goal right now is to get that wait time down to a manageable level."
Meanwhile, if you're feeling unwell, Botros encourages you to use the COVID-19 self-assessment tool available at bc.thrive.health/covid19/en to determine if you need a swab.
"I hope everyone stays healthy and well and continues being reasonable in their social gatherings," she added.