It took three weeks and dozens of volunteers to track down the young dog that bolted after a car crash on the highway.
Maisie, a six and a half month-old retriever, was in her owner's car when it was totalled in West Vancouver on July 3. The driver was unhurt, and when he went to check on Maisie, she bolted as soon as he opened the door.
A company with bloodhounds originally tracked her scent, but soon lost it. Forty-eight hours later, Squamish-based Canine Valley, a dog rehabilitation centre that also helps search for lost dogs, was hired. 
"Dogs can do very well in the wild," Valley Calderoni, one of the Canine Valley owners, said. "They are animals, so they have no problem surviving. Obviously, some dogs go into more shock than others, because they are more pets. But this was a very young dog. That made the search very difficult."
What complicated their search was the area was 'contaminated' by the owners' scent.
"As every normal person would do, they got a few friends together and went into the woods calling her name," Carl Merac, also with Canine Valley, told The Chief.
But her name, Merac explains, was not something Maisie wanted to hear, since it was now associated with a traumatic event.
"What people do when they lose their dog, they usually do everything wrong. They push their dog away. It's counter-intuitive to what we think — we think like humans, but we have to actually think like dogs," Merac said.
Calderoni said her company has a very structured procedure for finding dogs. They began searching within a mile radius, eventually widening their efforts to cover a 10-mile radius. Dozens of people came together to go door-to-door, spreading the message that Maisie was missing and how people could help if they saw her. A humane dog trap was set up in areas where they'd placed the owners' scents. Trail cameras placed where they thought Maisie might pass.
As days turned into weeks, Calderoni and Merac said they weren't too concerned for Maisie's safety.
"West Vancouver is a wonderful place for a dog to get lost," Merac said. Calderoni added, "The environment where she was lost, there's lots of food and an incredible amount of water. We knew she had a very high chance of survival. The biggest threat was the highway."
She'd likely survive. But finding her was another issue altogether.
It can be as fast as 30 minutes or take as long as two weeks but, at some point, a dog goes wild, the trainers told The Chief.
"Once a dog is in survival mode, you can't lure them with food, they don't think they're dogs anymore. They're not your pet," Calderoni said. Some dogs will establish a territory. Many will become nocturnal and hunt small prey at night.
How to find a dog, and get it to return, depends on a number of factors. The same strategy they used on Maisie may not work for finding another dog.
"Every search is different for us," Merac said. "In order for us to determine a search strategy depends on the breed of the dog, it depends where it got lost, the terrain, how old it is."
After reported sightings throughout the weeks she was missing, the call finally came on July 24: she was in the Cyprus bowl area.
The fast action search team formed a human chain down the steep terrain where she was, passing Maisie up one by one.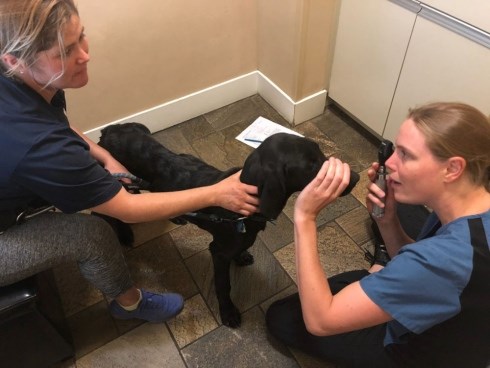 After 21 days, Maisie had lost weight. She was weak, lethargic and her eyes were unfocused. The team took her to the vet in Squamish, and she was finally reunited with her owners.
"There's two stories in this," Merac said. "The first story, of course, is about Maisie and how she got lost. The second story, which is just as important as the first one, is about community coming together, taking action and having results."
The day after she was found, Maisie and her owners visited Canine Valley in Squamish, where the owners are dedicated to training the pup, specifically with recall. Soon, when they call her name, Maisie will come back — on her own.
What should you do if your dog goes missing?
Valley Calderoni, of Canine Valley, gives some tips:
1. On a map, take note of the exact location where the dog was lost, and the direction it went
2. Stay calm and stay put. The dog may return on its own.
3. Do not yell the dog's name unless they have recall training.
4. After several hours, contact animal control and local shelters.
5. Seek professional help and start an awareness campaign.