The District is considering two incentives for developers that it believes would help reach its environmental goals.
"A liveable, resilient Squamish can balance the needs of citizens with the health of the planet, but we will need to shift our thinking from what is considered standard today, and these policy tools aim to get us closer to that future state," said Mayor Karen Elliott in a news release.
"We are in a climate emergency and while it's tempting to talk about trade-offs, in reality, more walkable neighbourhoods, access to transit and safe cycling and walking infrastructure provide critical benefits for the health, wellbeing and human connectivity in our neighbourhoods. We encourage residents to learn more and weigh in on these tools and help us establish sound policy direction that sets us on an aggressive but achievable path."
The first initiative, dubbed the low-carbon incentive, would use permitted density as a tool to discourage buildings with a high carbon footprint and encourage green buildings.
Under this incentive, buildings with what the District considers high-carbon heating will have their permitted density cut by a third. In other words, home builders choosing to install a natural gas fireplace or furnace would be required to build a home one-third smaller than previously allowed.
However, full density will be granted to buildings using what the municipality calls low-carbon heating, such as baseboard heaters, heat pumps and electric hot water tanks.
The second set of incentives encourages developers to build according to what the District considers to be "smart growth" principles.
The municipality hopes to concentrate buildings along core transit networks and neighbourhood nodes.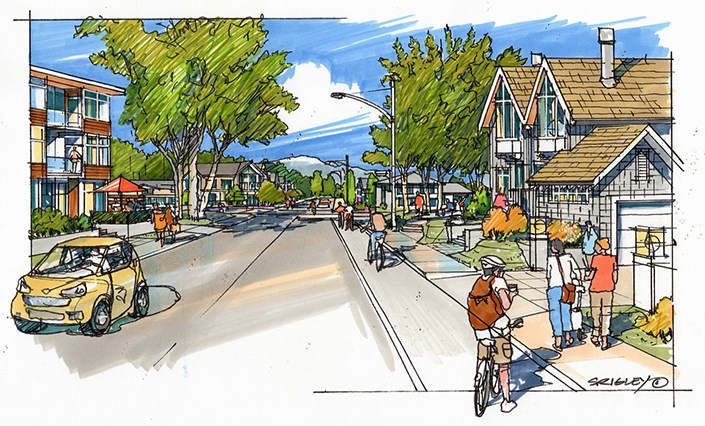 The idea is that focusing development in these areas will make the town more walkable, while allowing for an increase in transit frequency. It would also allow more shops and services to exist within neighbourhoods.
Under the smart growth incentives, buildings will be allowed more density if they are built along the core transit network and neighbourhood nodes.
It would also allow duplexes, triplexes to "gently increase" density. There will be added floor space allowed for multi-family properties.
To sweeten the deal, the cash amenity contribution developers pay for space obtained through the density bonus would also be reduced. It would be only 50% of the increased value achieved through the bonus.
The District is seeking community feedback on these policies before discussions at an upcoming Council meeting.
You can have your say at squamish.ca/density-bonus-system.