The former gas station land by Winnipeg and Cleveland may finally be turning into a site for a residential-commercial building in the not-too-distant future.
On Sept. 15, council voted unanimously in favour of granting first reading to a rezoning application that will turn 38108 Cleveland Ave. from a C-2 vehicle fuelling station land into a C-4 downtown commercial zone.
The property contained a storefront from the 1920s to 1950s, then a gas station from the 1950s to 1990s, according to the District of Squamish.
The land has been empty since the 1990s.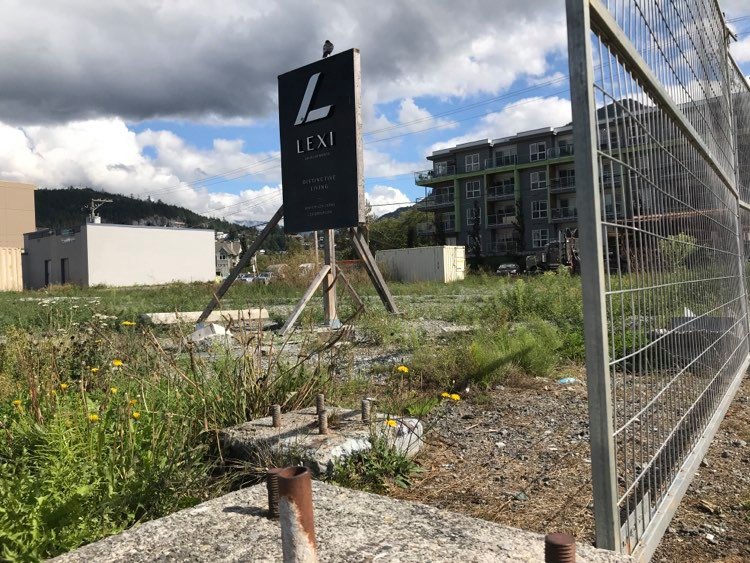 The District has received a certificate of compliance under the authority of the Environmental Management Act to confirm that remediation has been satisfactorily completed for this site, District staff told The Chief.
The Lexi Group, the developer and proponent for this project, is proposing a six-storey building with 28 residential units and employment space.
The building is aiming for a floor-to-area ratio, or FAR, of 2.0.
Bylaws state that C-4 zones hoping for that FAR require 30% employment space, but this development proposed 20% employment space.
A staff report says that this was done in exchange for reducing the building's massing — that is, its perceived shape, form and size. This tradeoff was considered, as larger massing is expected to affect the views of the mountains and the character of the downtown area.
The project originally proposed a second storey office space, but this was removed and replaced with over 500 square metres of ground floor employment space.
There would also be two commercial patio spaces outside.
"Staff support this reduction in employment space as a reasonable compromise to reducing the sixth floor massing of the building," the report reads.
However, this tradeoff was a subject of debate among those on council.
Coun. Chris Pettingill initially had some critical words for the project.
"The massing is, if anything, probably worse not better," said Pettingill. "I think [I] heard a lot from the community of concern, especially downtown, in relation to viewscapes and massing that I think this just hasn't addressed.... I think as we deal with the climate crisis, maintaining that employment space in relation to residential space is absolutely critical, so I'm not comfortable going lower on the employment space."
He ultimately wound up supporting first reading, though he said he expected the project to make changes by the time second reading comes around.
Coun. Armand Hurford was of a similar mind.
He said the project needed more work.
"I personally am not convinced that we should be giving away the employment space to get more people into our downtown for a large number of reasons. The local employment space is extremely important," said Hurford.
"So far, making the development happen on this site has come with the cost of employment space and that's not a sacrifice I'm excited about contemplating."
Mayor Karen Elliott said the project will be on an "iconic corner" in town, and since it will become a central plaza in downtown, it needs to reflect the community.
"And for me, this building doesn't pick up yet on something that is Squamish," said Elliott. "Either its massing doesn't reflect a part of our history, or the lines in our community, in terms of the mountains or the water, there's just something that makes it very urban but not very Squamish."
The project will return to council, presumably with changes made, at a future date for consideration of second reading.