In the dead of winter, Howe Sound is still very much alive.
The surface is still and calm. Most large mammals, including whales and sea lions, have left for the season, and the water is clear and cool.
But on the sediment beds, among the kelp and between the crevices of the rocky reefs, most of Howe Sound's 650 species of animals are moving, eating, and living out their regular routines.
"For the most part, it's business as usual under water," says marine ecologist Jessica Schultz, manager of Howe Sound Research and Conservation with the Coastal Ocean Research Institute and Vancouver Aquarium. "The water temperature down deep doesn't change as drastically as it does for us."
It is quiet beneath the surface as well — at least to human ears. Between their breaths, divers might hear crunching, crustaceans snapping and maybe even rockfish barking at one another.
"I think if you're a fish, it's probably quite loud. There's a lot of things crunching," she says. "There are sounds that are there, but for us, as scuba divers, we're usually not in tune enough to appreciate them."
Most animals have settled into their daily routines unchanged, but there are exceptions.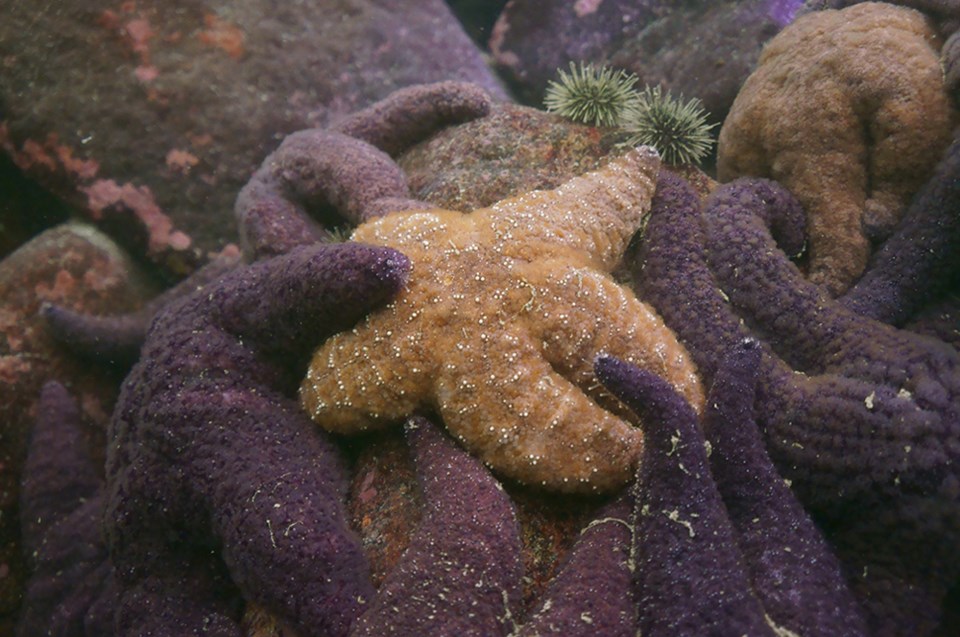 HIDDEN ROCKFISH
There are about 37 different species of rockfish in B.C., and Howe Sound is home to many of them.
In recent years, Schultz says researchers have been observing a curious behaviour in one species of rockfish: "winter hiding."
It seems that stormy weather may be just as frightening to some fish as it can be to humans; when a storm hits, copper rockfish look for a place to hide.
"You can think of it like hibernating, except that they probably still eat while they're in there," says Schultz. "There's probably little shrimps and invertebrates in there that they're eating."
The behaviour is not well understood. Schultz says she thinks the fish could be escaping the strong currents, taking shelter from big waves that push them around.
But there could be other reasons they take cover.
"Because fish can't regulate their body temperature as much as we can, or as other mammals can, their metabolism probably slows down when it's colder," she says. "They don't move around as much, and [they are] retreating into the rocks as well to hide from predators."
These fish behave differently in the summer. When the weather isn't stormy, copper rockfish live in the seagrass and can be found swimming in the open water.
While the reason for their winter hiding is unclear, with some species of rockfish living more than 100 years, perhaps they know something other fish don't.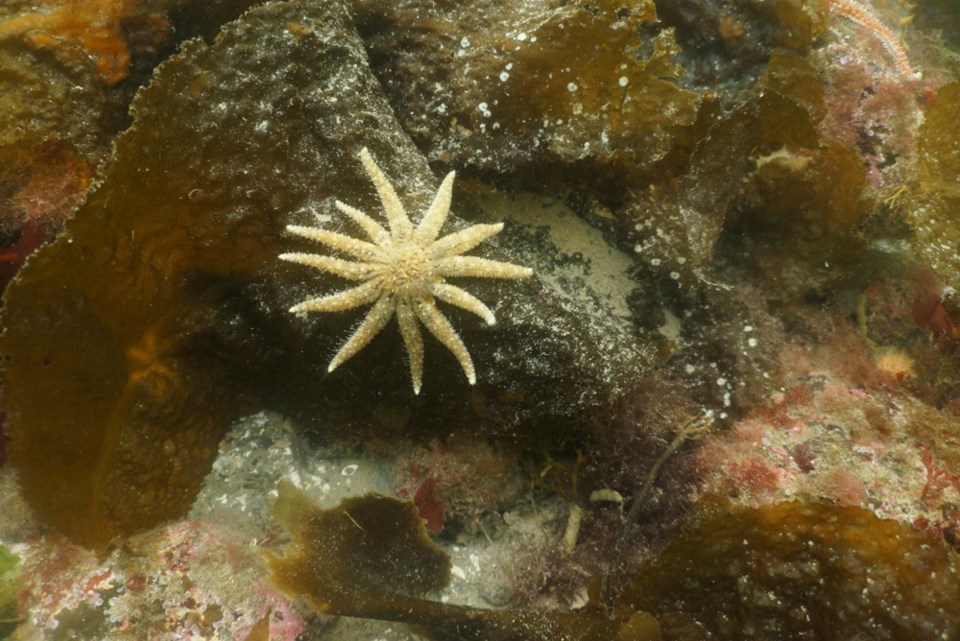 WINTER FISH SPAWNING IN HOWE SOUND
Herring spawning is a big summer event. Male herring release sperm that makes the water a chalky-white colour, which can be seen from the surface. The female fish soon come and lay their eggs on vegetation such as sea kelp.
This yearly spectacle attracts many predators, including birds, sea lions, and humpback and gray whales.
But fish that spawn in the winter are not quite as dramatic.
Male lingcod migrate in the fall and spawn between December and March in shallow reefs. The females join them soon afterward and lay eggs on the rocks. The males guard the females and their eggs until the embryos have fully developed and the eggs hatch.
The "egg masses" that form on the rocks look peculiar.
"(It) just looks like big balls of styrofoam," Schultz says.
The red Irish lord sculpins also spawn in Howe Sound during the winter. Each female lay eggs of a unique colour, and returns again repeatedly until she has created a large cluster. Males of this species also guard eggs until they hatch.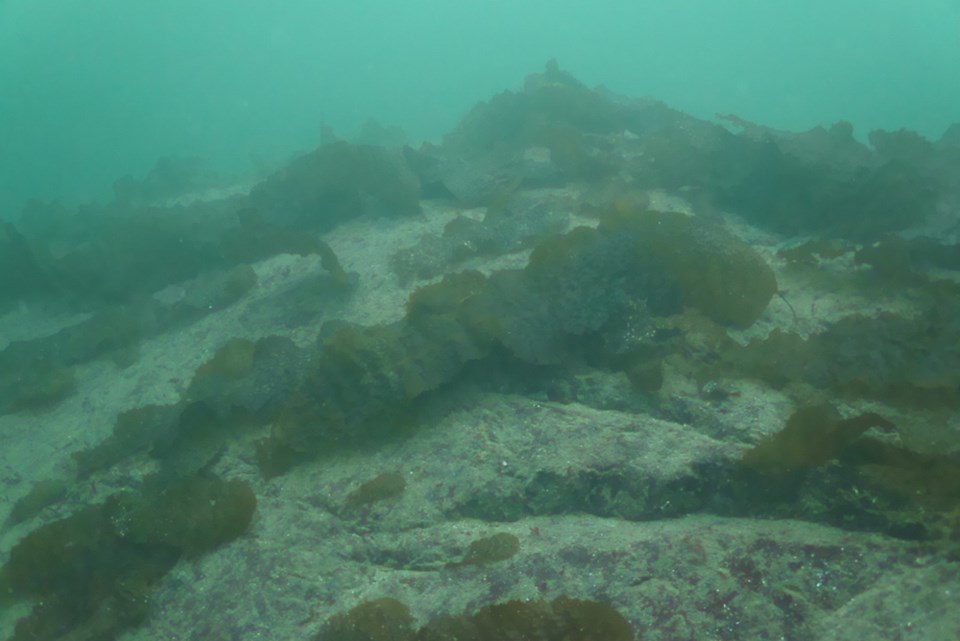 THE COLOUR OF WATER
Probably the most noticeable seasonal difference in Howe Sound is the colour of the water.
Rains bring muddy water from the watershed in the spring and turn the water brown. In the summer, microscopic plants called plankton — including algae — multiplying quickly also have an effect.
"[Plankton multiplying] makes the water brown or green, or sometimes red," says Schultz. "That provides a lot of food for all the other levels of the food web."
Animals comea to Howe Sound to eat the plankton, but in the winter it can't reproduce as quickly.
"They need a certain amount of sunlight to create energy like plants do. They need a certain amount of nutrients like nitrogen and phosphorous," she says. "In the summer, you get the perfect mix of all those things."
The water is clearer in the winter, making it a favourite time for divers to explore.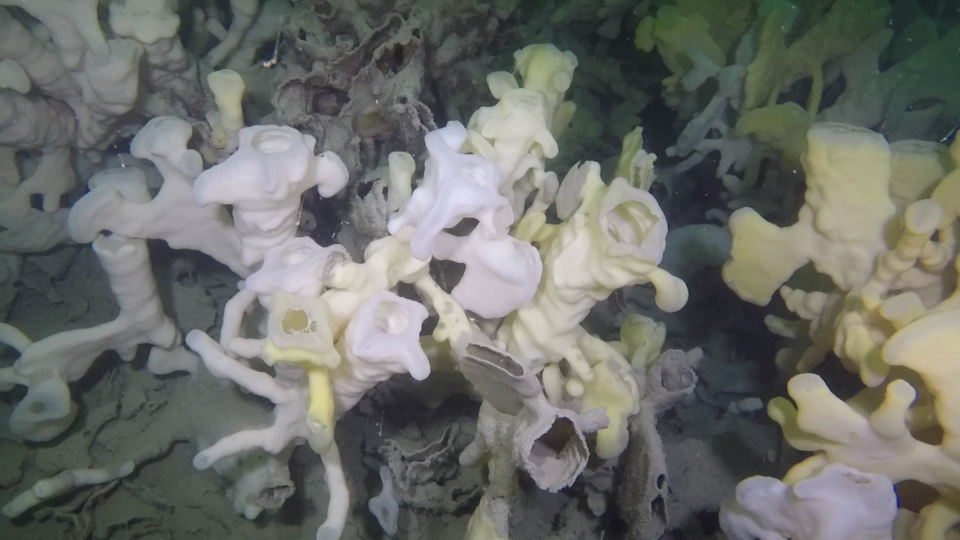 GLAS SPONGES THRIVE YEAR ROUND
Howe Sound is one of the southernmost fjords in North America. The steep-walled inlet was formed in the last ice age when glaciers dug deep valleys into the rocks.
There are four types of ecosystems here: rocky reefs, seagrass, glass sponge reefs, and the soft sediment seabed.
"It's kind of like walking in the woods. The more you slow down and look, the more life you're going to see," says Schultz.
Sea stars and urchins are two of these creatures living in these habitats.
Although there are fewer large animals in the sound during the winter, Schultz always sees something that piques her interest.
Howe Sound is the only place she knows of where glass sponge reefs are shallow enough for scuba divers to reach.
"It looks like this kind of billowing formations coming off of the sea floor," she says. "You'll see the pale colour of the sponges come out of the green water, and as you get closer, you realize its really a very intricate reef."
Also called "cloud" reefs, they look like coral but are bigger, and white, yellow or orange in colour. These animals can sometimes make formations that look like miniature mittens and bushes, says Schultz.
Diving them, and in the sound in general, is a special experience, she says.
"Every week, when we go out there, it's just surprising how much life there is and how wonderful it is under the water, she says.
"It's a real gem that we have right in our own backyard."