When Alice Guss, Tsawaysia Spukwus, describes her mother, Gwen Harry, she turns to a Squamish legend to get her point across.
Raven, Seagull and the Daylight Box is the story of how Raven used wily means to get his brother Seagull to open the daylight box so the world could see.
"My mom is like the raven, she's like the trickster. She wasn't really tricking people; when Raven did that it wasn't just so he could benefit, it's so the whole community could benefit. That's what my mom is like. She helps the whole community. She'll fight tooth and nail until we get what we need."
Gwen went through the residential school system, as did her husband Ernie, then acquired her high school diploma later in life while also raising a family and being an active volunteer in the community.
Guss says that her parents instilled valuable lessons in her and her siblings, which they carry now and which she is passing to her own children — two boys and a daughter.
"If our community needed help with education, with funds, my mom would go out and do it. She's the advocate for our community up here," said Guss.
Gwen, now an elder of the Squamish Nation, spends her time going to schools and sharing stories about the residential school system.
But not to reprimand or cause guilt, says Guss, only to give awareness where there is none: "Because none of this stuff is in the curriculum," Guss said. "Things that are not written down in the books."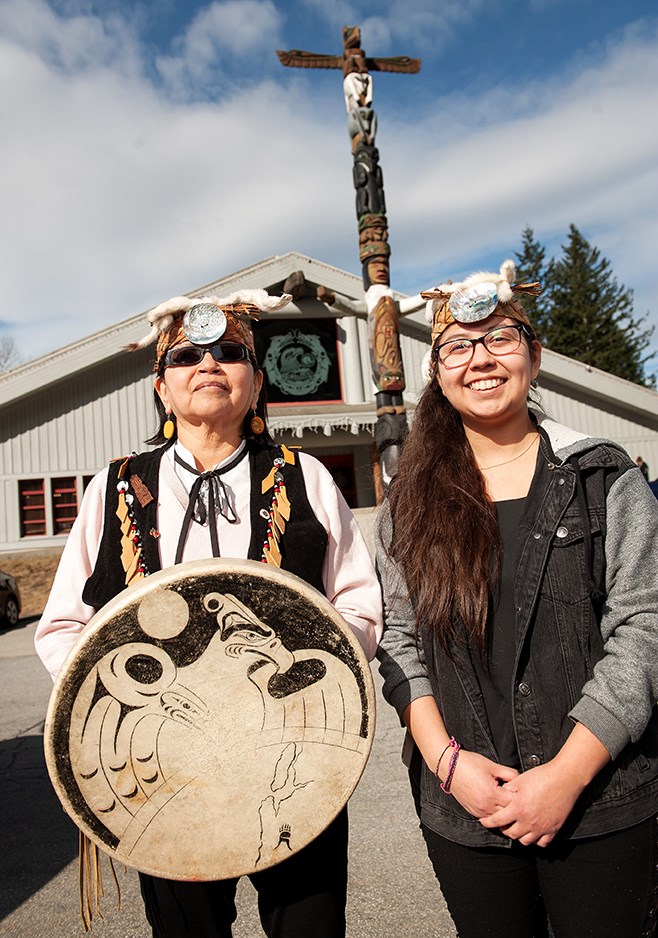 Ernie worked in the logging industry on log booms until arthritis forced him to stop and he was a bus driver for a time. When his arthritis caused him to retire from that as well, he began his work recording the Squamish language.
Guss, also in education, helped, along with other community members, elders, and researchers, and after 18 years that record was printed in a book containing about 8,000 Squamish words.
"My dad taught me the language and the culture, my mom taught me to build a bridge," said Guss. "That bridge is a two-way street, it's not 'my way or the highway.'"
Gwen spreads that message today with her work in schools, and Guss has taken the lead and is also working with schools and organizations, teaching about Squamish culture through drum making workshops. She sometimes leads over 400 students in constructing their own drums out of traditional materials.
"The teachings... teach us to respect, to share, to care, and transform. The creator has given us the gift to be transformers, so we are going to transform mother nature's gift into another gift, which we call a drum," said Guss. "Every time you beat the drum you're keeping the spirit alive of that animal, that deer or elk or moose, and you're keeping the spirit alive of that cedar or that maple tree.
"I'm sharing awareness, our teachings, the things we take for granted. Respecting someone. Respecting other people, most of all respect yourself."
Guss also leads opening ceremonies in the region, performing traditional drumming and singing, and she includes her daughter, Dominique Nahanee, whom she is training in the oral traditions.
"She was singing our songs by the time she was 17 months," Guss said of her daughter. "I'm training her to be the cultural ambassador."
Gwen and Ernie's other children, all six of them, have been leaders in their own rights.
Rick Harry and his son, James, are both internationally known fine artists and carvers. Her brother Dale Harry is a Squamish Nation hereditary chief. Her brother Les was also a Squamish Nation councillor for over a decade, Tom is an entrepreneur with his own excavating and security businesses, and Alan is a woodworker and has served as elder co-ordinator.
Alice's late sister, Carol, overcame physical limitations to achieve her own success as a store owner and artist.
"Nothing stopped her, nothing. She was really one strong person," said Guss. "Us having a big family, we always helped each other."
Guss remembers helping to process fish that her father and brothers caught, and her mother plucking ducks that her father brought home. But most of all she recalls Ernie's sense of humour and her mother's sense of justice and service to the community.
"We've got two good teachers: mom and dad," said Guss.
"Dad taught me to have patience and to be on time. Indian time is early or on time, meaning the salmon berries will not wait for you, they come and go, so be on time. Do the job right the first time and always strive to do better next time. That will pay off in the end. Dad taught us that."