Art for arts sake, with a side of style and function thrown in for good measure, can sum up more than a few artists' work in Squamish. The town is home to countless visual artists whose creations beautify their surroundings in a way that is, at times, quite indispensable.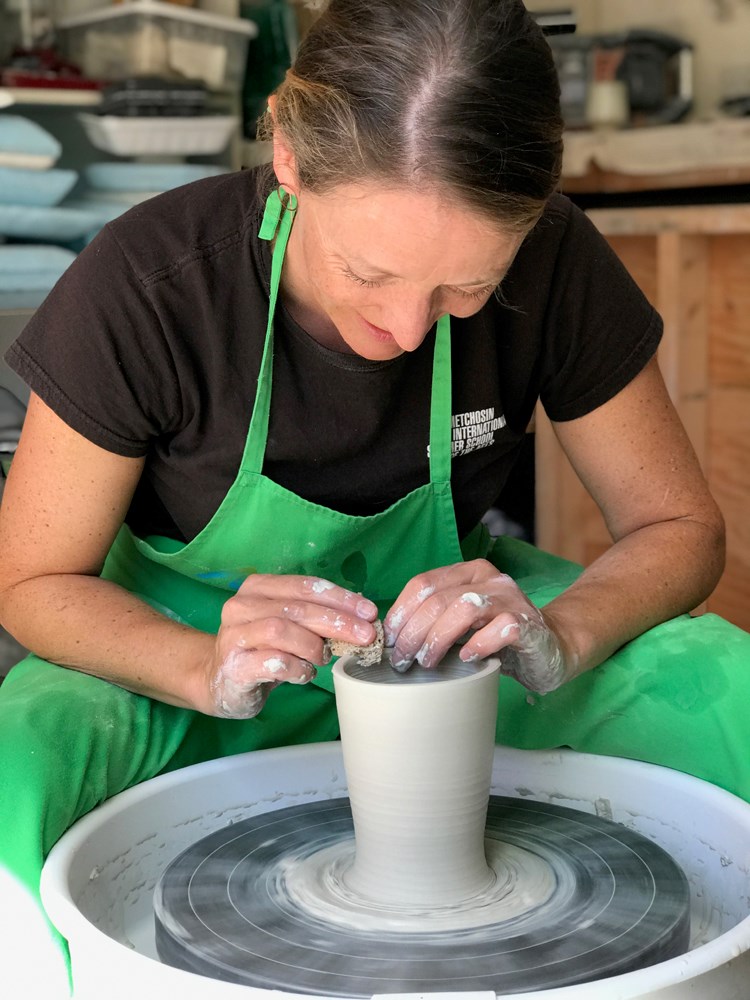 Ceramicist Emily Tolmie, has been throwing clay for decades; her work is a staple among Squamish artists at markets such as Refresh and in popular tourist destinations such as the Squamish Adventure Centre and Nootka Naturals at Squamish Town Hub.
Tolmie's signature mugs, often with the illustrations of bicycles and other recreation or nature motifs are often stamped with the town's name and make a perfect souvenir for those passing through. They are also a point of pride for locals who are validated by what we've always known: Squamish is a hip place to be.
"I want to be here. This is the best place for me and my family to be. And I want to be making," said Tolmie, who also substitute teaches a couple days a week at local elementary schools.
"It starts from me wanting to be in the place. When Craig and I came from Vancouver, we weren't even sure what we were coming to — this wasn't, at the time, a place to come and 'make.' But now, I can't imagine being anywhere else."
Tolmie, a mother of two (Mary is 10, and Violet is 7), is a graduate of the Emily Carr University of Art and Design, in Vancouver. She moved to Squamish with her composer husband Craig Ducommun 13 years ago, and now spends hours upon hours in her home studio every week wedging, throwing, firing, and glazing her delightful designs onto pieces that can be used for special occasions and every day. Beyond her signature coffee mugs, she also makes gorgeous tumblers, travel mugs, pitchers, and even rubber-sealed jugs that can serve as growlers.
"I like the idea of living in a smaller town and doing something like functional ceramics. It's about the maker passing along this thing to you, and you use this thing that I make. It becomes part of your family, your house, your dinner table — there's a local flair to it. It's community," said Tolmie, who teaches ceramics in her studio.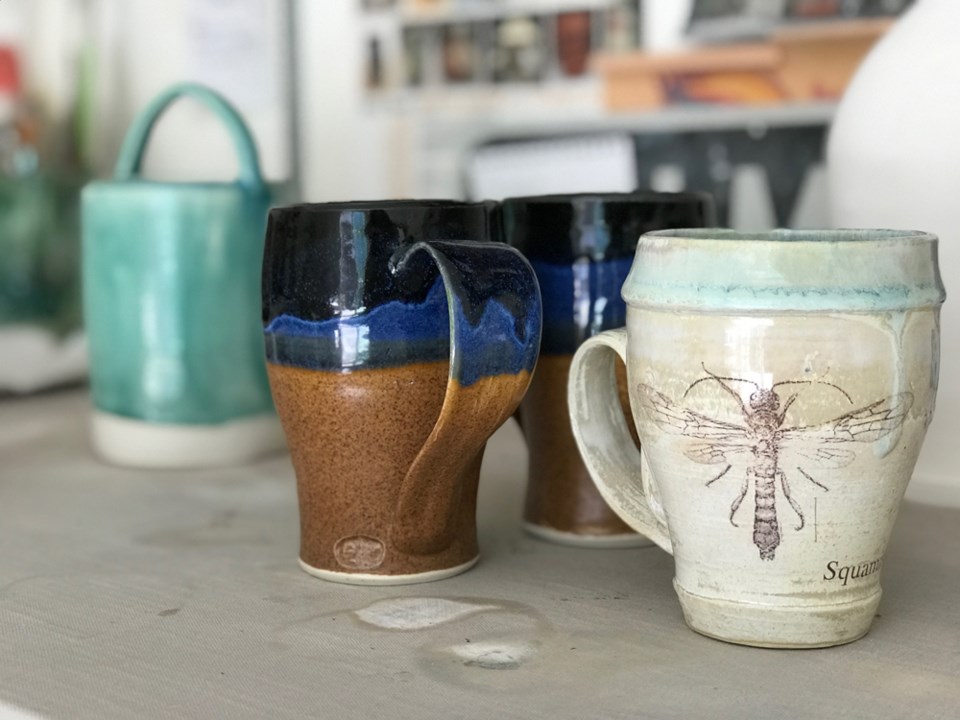 "This is a really good place for local handmade stuff. People just know you — the town is small enough — they just call when they need something."
Lan Yao paints highly detailed works — about three to six a year including commissions — in fits and spurts. She's a full-time artist who also enjoys the Squamish recreation lifestyle, in particular, climbing. You can see the influence of landscapes in her art, which are rich colour washes that give the eye an endless number of vignettes to explore. There are both hidden and overt images co-existing within her massive paintings, pieces that range upwards of 6o inches by 48 inches.
Yao uses acrylic and polymer ink, sometimes diluting either medium with a bit of water to do a wash over the surface, giving her a jumping off point.
"Often I'll just pour some water down, or pour some diluted paint directly onto the canvas. Then I'll just play with that shape to get another shape, layer the washes," she said, explaining that this early process can take a few days to a week. "From those shapes that emerge, I can get started."
"I don't really paint in a traditional way where you're standing at an easel and painting, I kind of move around the piece a lot," said Yao, who began her training in Chinese watercolour at age four when the family still lived in China. "I try to approach the canvas or wood panel like it's a page from my sketchbook, that way it's not as intimidating – to stare at this massive empty space and think 'What am I going to do?'"
After graduating as a printmaker with a fine arts degree from Emily Carr, Yao put down her paintbrush and took odd jobs before becoming a 3D modeler for an animation studio. It wasn't until she moved to Squamish seven years later, that she picked up her brushes and put paint to canvas again.
"I hadn't painted for about seven years, but everything about living here truly inspired me," she said. "The sky, the forest, what's going on with the weather that day. If I'm going for a hike or a run, and it's just rained and the light hits the trail a certain way… there's just times that I look at something and I think 'oh, I have to paint that' But not exactly that image per se – it's more the colour, the smell of the air."
You can see that Yao is a printmaker when you look at her paintings. Her process is relatively evident in all its layers, and exceptionally unique. The style and expansiveness of her work lend itself to suit "I can't remember whose idea it was [to turn Yao's paintings into fabric], I'm pretty sure it was Val's idea. I always wanted to make fabrics and wallpaper design, there's such an art to it."
Dressmaking runs in the family for Nagy, but due to geography, the seamstress is self-taught.
"My grandmother taught my cousins to sew, but I didn't live close enough. I started out as a punk kid taking apart my clothes and sewing them back together — I didn't know what I was doing. I'd get hand-me-downs, shop at Value Village and I'd want to make it my own somehow," she said, laughing. "Finally, after years of not knowing what I was doing, I took a sewing class in high-school."
After acing that, Nagy went on to get her diploma at Helen Lefeaux School — a strict fashion design school in Vancouver where she learned, among other skills, pattern-building techniques.
Very much into the creative side of dressmaking, Nagy has a hard time qualifying her style, but her esthetic harkens to a time gone by. Whether it's the 1930s in Hollywood or the 1960s in South Africa, you can see hints of different eras in all her pieces, from the cut or drape of the fabric to the notions she uses. The quality of construction is consistently top-notch. Many of her creations are one-of-a-kind, which has a romantic appeal — unless the dress you have your eye on doesn't come in your size.
"Because I've been working with vintage fabrics for so long, it can be a bit restrictive. Usually, I only have enough fabric to make one or two dresses in the same fabric. That's one thing I like about using the vintage fabric is you aren't creating a new demand, and typically the quality is higher, and that's what appeals to me. I want to be able to create the same kind of quality and uniqueness in a modern fabric — it can be a bit difficult sometimes," she said, adding she is keen to offer a full range of size options.
This struggle is exactly what has led her to make her own prints.
"I'm working toward creating my own prints as sustainably and local as possible. For example when I had Lan's fabric printed it came from Austin Texas. I want to bring that closer to home, but I won't compromise quality."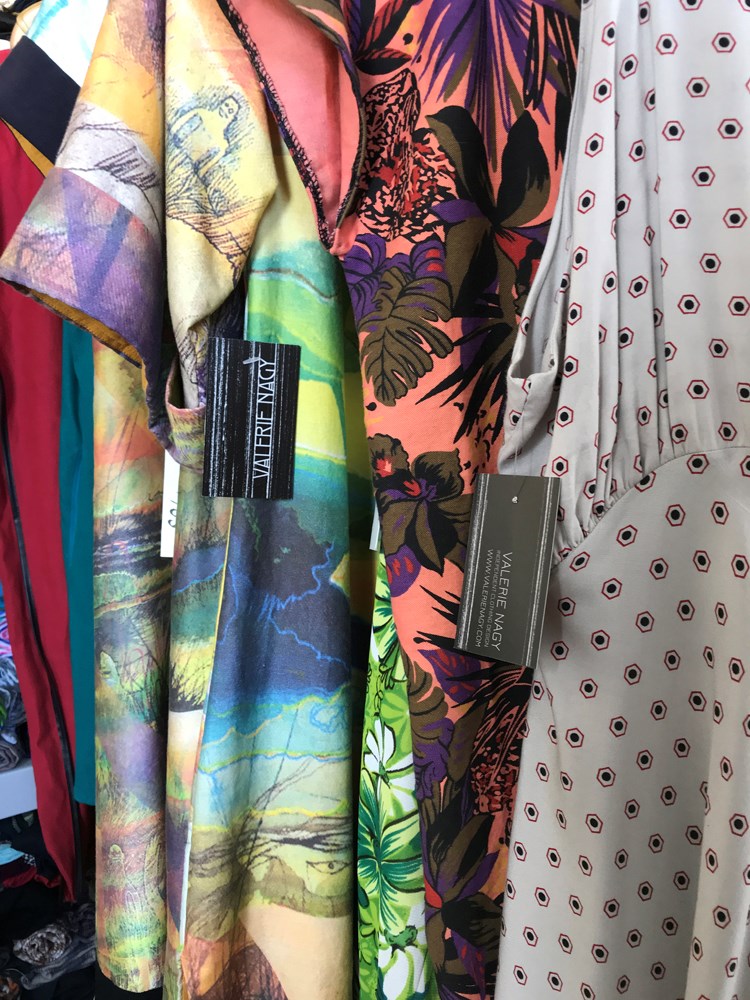 Nagy admits some of her favourite things to make "are the really, really time-consuming."
"I obsess over my grandmother's traditional Hungarian embroidery, and my other grandmother is an artist as well. Her art — contrasting, punchy, different, and out there — really gets me going," she said, gesturing to the black and white images hanging on her studio wall.
"Basically I've been trying to channel my grandmas lately."
Nagy says her inspirations "are sort of all over the place" at the moment.
"There's something new every day, that's what keeps it interesting. But I'm really trying to nail down a handful of designs that I really love, that are easy to wear and easy to clean. Once I can settle on exactly what those are, I really want to make full-size runs of things.
"I love making one of a kind things, but there's something to be said for having something in people's sizes which is why I'm moving more toward the printmaking.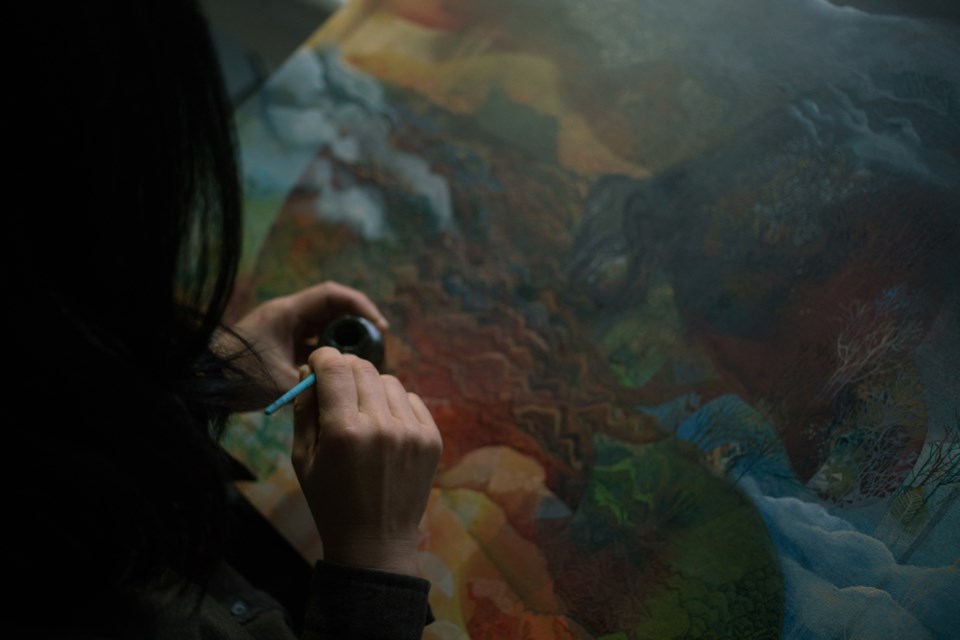 Lan's paintings don't stick around that long, so we have to make sure we get a high-resolution image of it before it goes. But I've also been talking to a few other artists and there are so many things I'd like to try – including my own paintings and designs.
For now, it looks like there's no shortage of collaboration opportunities. Yao said she is on board to do more work together.
 "If she wants to make more, I'd love to."
Visit emilytolmieceramics.com, artbylanyao.com, valerienagy.com or find these artists by the same names on social media.