Whether it's the world-class bike and hiking trails, scenic shoreline, or wide selection of some of North America's best climbing routes, each summer brings more and more people looking to experience the Sea to Sky's outdoor playground for themselves.
But enjoying all those amenities, more often than not, requires the necessary equipment. Here are a few of the many local businesses with rental programs ready to get you geared up and ready to go.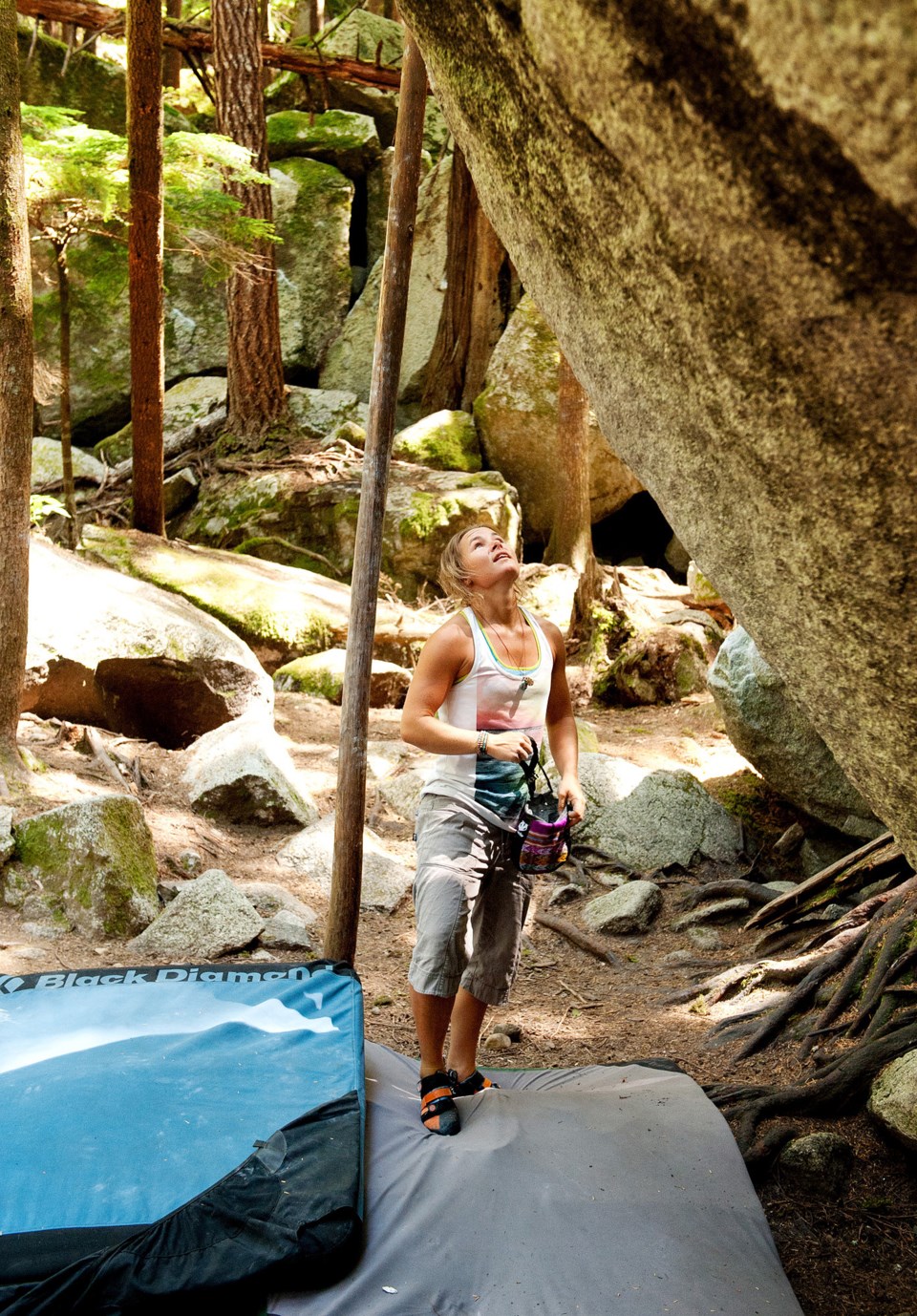 Climbing
Thanks to Climb On Equipment & Gear Exchange  (38167 Second Ave.), you don't have to plan out your climbing excursions weeks in advance. Their availability guarantee means they'll have whatever gear you're looking for, in your size, in stock when you need it — even if that means pulling it off their retail shelves — while their expansive year-round opening hours (which extend to 8 a.m. to 8 p.m. mid-May through Labour Day) make for easy pick-up and return, regardless of your schedule. Climb On also offers Organic Climbing crashpads for bouldering. Kids rates are also available.
Whether you're a first-time climber looking to rent shoes or a seasoned pro who just needs an extra mat for the day, Climb On has all the gear you need, as well as the all-important local intel.
"A huge part of what we do … is offering local beta," said Climb On owner Ashley Green. "We always try and direct people to the places where they're going to have the best experience for the conditions of the day and their experience level."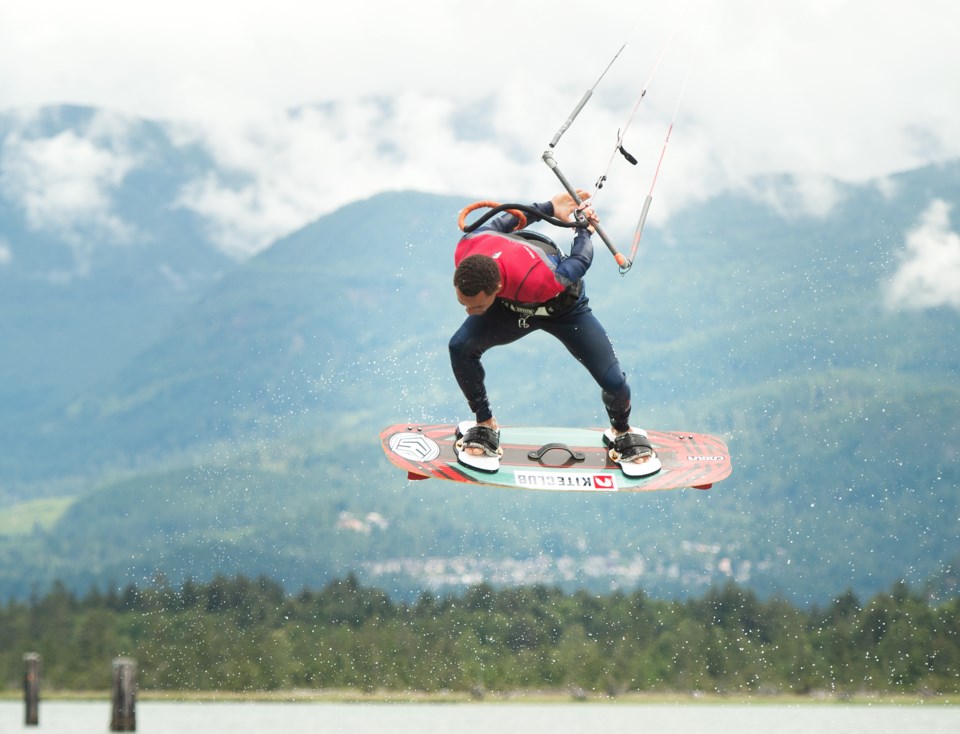 Kiting
Intrigued by the high-flying kiteboarders soaring past the Squamish Spit?
Aerial Kiteboarding and Squamish Watersports (37813 Second Ave.) can get you set up with a harness, leash, kite, board, bar & lines, helmet, wetsuit, booties, gloves and life vest necessary to do so (provided you can prove you're proficient at the IKO Level 3K). They also have foil boards available.
If you're a beginner, Aerial Kiteboarding also offers several different lesson options, which includes gear rentals. Sea to Sky Kiteboarding (Squamish River Dyke Road) also offers kiteboarding lessons.
 Paddling
The Sea to Sky Adventure Company (located at the Squamish Adventure Centre, 38551 Loggers Lane) offers a wide range of hourly, daily and multi-day rentals, including both bamboo/fibreglass and inflatable stand up paddle boards (SUP), a selection of recreational kayaks and expedition sea kayaks, and, of course, canoes, all perfect for exploring Squamish's ample coastline. Safety gear is included with rentals, while vehicle roof racks are also available for rent.
Squamish Adventure Inn takes advantage of its waterfront location to offer hourly single and double kayak rentals, while Squamish Watersports also offers SUP tours.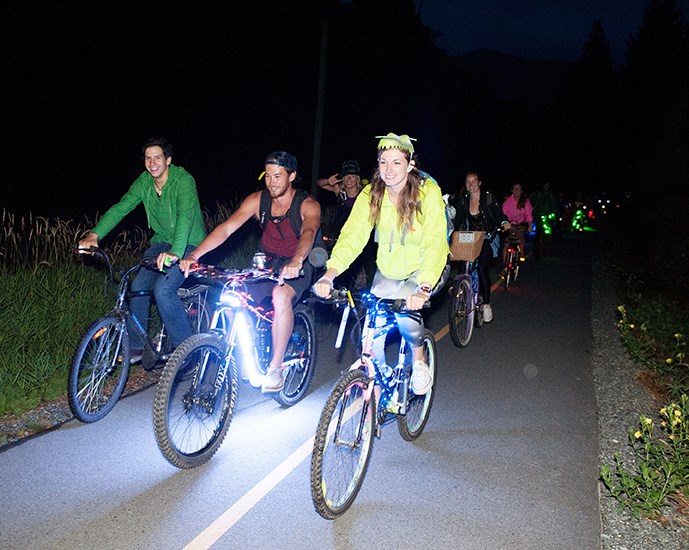 Biking
At Flying Spirit Rentals (1796 Depot Road East), acquiring your bike is just the first step. Although they have a fleet of Kona mountain bikes, cruiser bikes and kids bikes available for half-, full- or multi-day rent, their partnership with Dialed In Cycling offers customized, private guided rides and coaching for mountain bikers of all levels, including families.
Bike rentals include other necessary gear, like helmets, pads and backpacks, while tailgate pads and racks are available for guests looking to travel.
Flying Spirit is also conveniently located on a campground, which means a conveniently short commute to nearby trails (and showers available to warm up after a chilly, rainy ride or clean off after a sweaty one). Guided rides must be booked at least 24 hours in advance.
At Corsa Cycles (38123 Cleveland Ave.), mountain biking enthusiasts of all skill levels have been taking advantage of the high-end bikes available for rent since the long-time bike shop launched a daily rental program in 2018, after teaming up with Vancouver's Dunbar Cycles--meaning you can ride the newest version of your favourite bike, or try out your dream bike before dropping the equivalent of one year of university tuition.
"We rent basically every high-end mountain bike that we sell, so I've got Santa Cruz, Juliana, Specialized, Devinci and Rocky Mountain," said demo centre manager Simon Quinn-Sears "I think we've got 45 maybe, 50 mountain bikes, valued around that $5,000 to $8,000-dollar-mark."
The fees from your first 10 rental days in a season are redeemable towards purchasing a bike towards the end of the year, he added.
Corsa also counts a selection of electric assist mountain bikes within their fleet, and a handful of downhill bikes suitable for the Whistler Bike Park. Bikers are encouraged to reserve their rentals in advance using Corsa's online booking system.
 Boating
The only thing more enticing than the icy-blue waters of the Howe Sound is the incredible wildlife that call it home.
"Our customers have seen eagles, bears, deer, whales, dolphins; everything you could imagine out there."
A boat, easily acquired for a day from Squamish Harbour Marine Adventures at the Squamish Government Docks, will allow you to explore the Sound from a new perspective, or take you to lunch spots on Bowen Island or the Sunshine Coast.
"Our customers have seen eagles, bears, deer, whales, dolphins; everything you could imagine out there," said owner Doug Lea-Smith.
Seventeen-foot Hourston Glascrafts outfitted with 60-horsepower or 70-horsepower Yamaha Outboard motors, which accommodate a maximum of six people, are available to rent by the hour. The boats are specifically crafted to handle the south coast's windy waters, and no special licenses are required to rent. However, if driving a boat sounds like too much responsibility for you, Squamish Harbour Marine Adventures also offers guided tours.