Squamish isn't known as the outdoor recreation capital of Canada for nothing.
Its stunning landscape and inspiring terrain has attracted a community full of people just as passionate about the outdoors as they are about finding the time to enjoy it.
Some might say that could be why locals' hobbies tend to be just as extreme as their surroundings' beauty: in this community, limits are meant to be pushed.
For example, why go for a hike when you can go for a trail run? Why go for a run when you can run a race? Why run a race when you can run an ultramarathon? Or, better yet, why run one ultramarathon when you can run two in one weekend?
At least, that's what we can assume 250 people were thinking when they signed up to run the Squamish 50's 2019 50/50 challenge.
Scheduled for Aug. 17 and 18 this year, the challenge invites trail runners to tackle a 50-mile, or 80.5-kilometre, event followed by the 50-km event the next day. The Squamish 50 also offers a 23-km course.
The challenge began as a solution to a problem, explained race director Gary Robbins.
"Initially, all the races were held on a single day, and it was getting really crowded to be able to do that on the trails," he said. "I wanted to split it up into two days, over the weekend, and as soon as I did that, I just looked at it and thought, 'What are the chances that someone would sign up to run both distances, 130 kilometres of trails over the weekend?'"
Pretty high, it turns out. The entire event's 1,350 spots sell out almost immediately when registration opens in November every year. This time, the 50/50 challenge, which has a finish rate of about 50 per cent, sold out in an hour and a half, Robbins said.
50/50 finishers receive a hat each year, with the hat's colour correlating to the number of times the runner has completed the challenge,  "So you can never win the game," added Robbins with a laugh. So far, only one athlete — Lions Bay runner Colin Miller — has finished the challenge every year, in addition to winning the collective 50/50 fastest time twice.
Though running 80.5 kilometres might sound extreme in its own right, the Squamish 50's courses are specifically and personally designed by Robbins to be conquerable — if you've put in the work, he explained.
With its technical terrain and steep, punchy ascents and descents, "The course is super challenging, but it's also specifically designed to be doable by anybody who puts in the training time."
In addition to tricky terrain, 50/50 challengers have another issue to consider throughout the weekend: "Some of those runners, are literally out there all day on Saturday, and they're only getting to bed at maybe 11 p.m. or midnight on Saturday night"— not ideal when the next day's race kicks off at 5 a.m., Robbins explained.
"A lot of these 50/50 runners aren't getting sleep and recovery between the races, so one of the biggest things for them is fueling during the race and recovery fueling after, in the limited window they have, so when they get to line up on Sunday, they're not entirely depleted with an inability to continue."
If travelling 50 kilometres on two wheels sounds more appealing than two feet, the Sp'akw'us 50 mountain bike race might be the event for you.
Squamish's biggest mountain bike race, returning June 15 and 16, for its third year, draws about 700 bikers annually to rip through the local trails.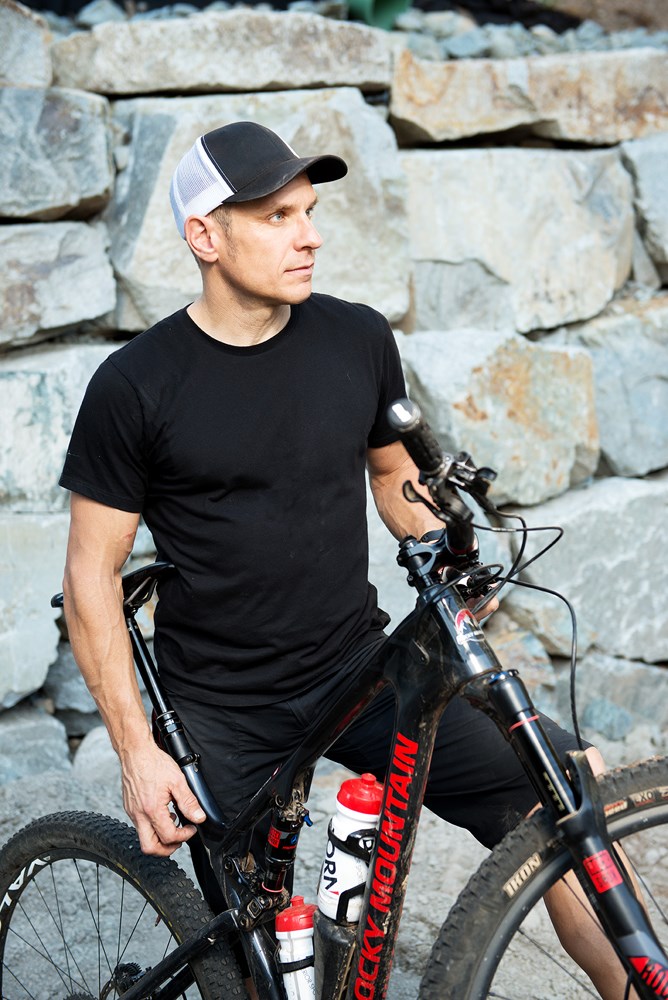 The event fills a void left by the Test of Metal race that ran for over two decades, explained Sp'akw'us 50 organizer Dwayne Kress.
In addition to its namesake 50-km race, the event also holds a 35-km race the following day. In addition to accommodating less experienced bikers, the 35-km event also facilitates the Sp'akw'us Challenge, another multi-day stage race.
The 50 is a bit more of a "burlier course" that includes a few more "technical features" than Sunday's "flowier" race course, Kress explained. "The 35 goes a little bit easier on you after the 50. Fifty kilometres is a lot on a mountain bike, especially in Squamish. The course that we're working with, there's a lot of up and down."
Competing in an event like the Sp'awk'us can be an incentive for athletes to push themselves and attempt something outside the limits of their comfort zones, he added.
"Certainly you're going to have to get in some longer rides as you build up to this event … but sometimes the excitement of riding new trails carries you further through fatigue than otherwise."
When it comes to Squamish activities, sometimes limits have to be found and pushed slowly—for example, we'd advise against attempting to free solo the Stawamus Chief's Grand Wall the same day you strap on a pair of climbing shoes for the first time.
That's where events like the Treeline Women's Climbing Festival come in. Now in its third year, the women's-only festival offers a safe, supportive space for climbers of all skill levels to celebrate their passion and come together as a community, while progressing their skills and pushing past their comfort zones.
Each year, about 100 participants come out for two days of climbing clinics led by knowledgeable female guides, during which they work on skills like learning how to climb outdoors, or learning how to fall safely.
Having that support, not to mention a cheering squad made up of your fellow climbers, often helps participants push past cruxes or terrain they've struggled with in the past, explained festival founder Katie Hurley.
"It gets super frustrating when you're trying to work through these things on your own or with people who aren't giving you the right information. Doing these clinics, where you're working with a guide that's just there to help you get through it … you're really getting that one-on-one attention, and it's super exciting when you get that and then finally get the move. When you're a climber, it's one of the best feelings ever," she said.
Whether it's climbers or kiteboards, those spending time in Squamish this summer can expect to see many athletes reaching new heights.
During KiteClash's annual Big Air competition, those heights can reach upwards of 20 metres above the ocean's surface, explained event organizer Steve Tulk.
Although kiteboarding is a relatively relaxed sport, especially for beginners, "Some of the tricks these high-level athletes are doing I would consider extreme for sure," Tulk admits. "It's basically like steering the boat and wakeboarding behind it at the same time."
The annual kiteboarding competition, taking place this year on Aug. 22 to 25 at the Squamish Spit, attracts pros from around the world to take advantage of Squamish's steady winds, as well as Canadian athletes fighting for the Canadian Freestyle Championship crown.
In addition to big air and freestyle — where athletes perform wakeboard-style tricks like rotations and inversions — KiteClash also hosts a 'kitecross' competition, following a similar format to its ski or snowboard counterparts. With up to 16 competitors at a time, "It can get pretty crazy, pretty hairy out there … there's tangles, occasionally," Tulk said.
Thanks to the Spit's setup, spectators can expect a show throughout the four days. Onlookers are, "literally within feet of the competitors during the competition," Tulk said. "During the big air portion of the competition they're almost jumping right over top of the spectators. It's pretty amazing."
Disclaimer: This is just a handful of the wide variety of 'extreme' outdoor sports events taking place in Squamish in 2019.