Just a few decades ago, craft brewing was unknown in British Columbia, the beer industry dominated mostly by corporate giants. In 1982, the craft industry emerged – just down the highway — when the Horseshoe Bay Brewery opened. In 1996, the growing phenom came to Squamish with the opening of Howe Sound Brewing, the local granddaddy of the craft that is still going strong.
Craft brewing has expanded so dramatically in recent years – with its aficionados growing commensurately devoted – that a bunch of folks in the field launched the B.C. Ale Trail. From corner to corner of the province, beer sippers can taste-test hundreds of locally produced variations. Squamish is firmly planted on the map, with a range of intriguing offerings that led us to set off (designated driver holding the keys!) to explore the variety on tap.
We began at HOWE SOUND BREWING, a comparatively old haunt for us by now, still a legend for a warm welcome and always dependable for upscale but completely affordable pub grub. During happy hour (Mondays to Thursdays 3 p.m. to 6 p.m.), prices on a few key drinks and delectables go crazy low.
Like several stops along the trail, this one speaks to the forestry heritage of Squamish with its solid wood interior and furnishings. Brewery tours are offered daily at 1 p.m. and, if you start quaffing at that hour, you might want to make pre-arrangements in the adjacent Howe Sound Inn for a comfortable and affordable night's accommodation.
The brewery has been especially recognized for some of its darker offerings, including their Woolly Bugger Barley Wine (extra strong ale), their Diamond Head British Stout and the Baldwin and Cooper Best Bitter. If that doesn't fill you up, $10 will get you a bowl of Howe Sound Ale and Cheddar Soup with house beer bread.
Best for pre- or post-activity carb-loading. Keto dieters not so much. Spill out onto Cleveland Avenue and head for THE COPPER COIL STILL & GRILL. Back when you were starting out, your dad probably told you not to mix your booze, and he probably also said something about everything in moderation.
If you've ever been to New Orleans, you know that both those nuggets of wisdom go flying out the window along with strings of beads. Kurt Metivier and Scott Gadsby arrived in the Sea to Sky region in the 1990s from parts east and have worked in food and beverage since.
Fast forward a couple of decades and they hired French-born and Quebec-trained chef Sebastian Vickers and bought the Pacific Northwest-Cajun place in the heart of Squamish.
Open and airy in summer with a huge patio, cozy and cabin-y in the winter, the Copper Coil offers the full line of cocktails for those who like something stiffer than a pint. Squamish may not be the natural destination for Cajun food, but the proximity to fresh seafood and the chef's spicy stylings lead diners to rave about the five variations of Po'boys, the Louisiana rub wings, Jambalaya and chicken and ribs.
Next up — SEA TO SKY ADVENTURE COMPANY. Offering canoe, kayak, mountain bike and paddleboard rentals, as well as other outdoor opportunities, we're not sure why this admittedly cool venue is listed on the Ale Trail ... unless as a sort of last-chance to do stand-up paddle-boarding while you can still stand up. Remember: Just like driving, don't mix alcohol with watersports.
Get wet, then wet your whistle! On to NORMAN RUDY'S pub, gorgeously set amid the golf course, ponds and spectacular mountain-scapes adjacent to the Executive Suites Hotel & Resort, in Garibaldi Highlands. Kids have the run of the greenspace just off the giant patio while we oldsters relax with one of the various Whistler, Squamish or Vancouver craft beers on offer.
Particularly recommended: Korean chili chicken bowl, with luscious chunks of deeply flavourful chicken, kimchi and roasted broccoli, or the tofu bowl, which is gingery and delicately balanced by Thai coconut rice. The highlight of the Cobb salad is the infused cheese chunks that can be first mistaken for walnuts but turn out explosively more delicious on the tongue. Two questions, though: What are "avocado fries"? Well, just when you thought there was nothing new under the avocado sun, the geniuses at Norman Rudy's have lightly battered chunks of the fruit and gently deep-fried them.
Nothing wrong with that. But dip them in the garlic aioli and sweet hell breaks loose on your tastebuds. Of course, you could dip cardboard in the aioli and find it pleasing, but we'll go for the avocado every time. Second question: Who's Norman Rudy? Well, it's not one person. In fact, it's not a person at all. Norman and Rudy are two rescue dogs adopted by the owner. And a buck from every Caesar you order goes to an animal welfare agency. Cheers to a good cause!
Onward and upward to A-FRAME BREWING, one of Squamish's family-friendly taprooms located in an industrial strip mall-type place but gorgeously appointed inside. You can not only bring the whole family but even outside food to enjoy alongside the signature, seasonal and limited-release craft beers, which are also available to go in the nearby coolers.
Advice you can take or leave: Don't slavishly follow the map. We wandered out of A-FRAME and noticed GEO CIDER COMPANY a few metres away. While it also carries A-FRAME beer, it also offers an intriguing array of apple-based ciders.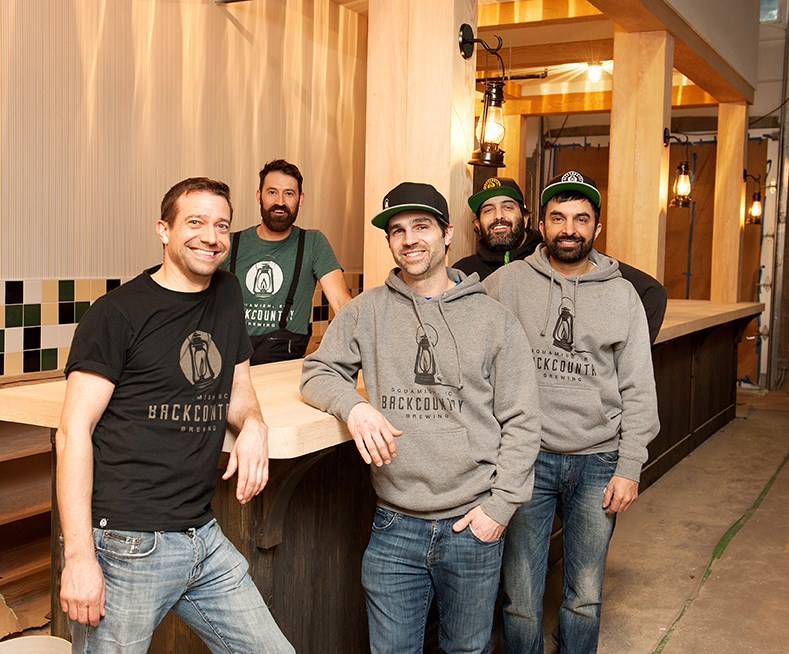 They have two flight choices, which include novelties like dark fruit, blood orange, peach, and watermelon lemonade apple ciders. With varying degrees of sweetness, you can be sure to find something here you've never experienced — or imagined. Upstairs in the airy, shiny-industrial cidery is a relaxing lounge with board games. Down the road at BACKCOUNTRY BREWING, we checked out their plentiful award-winning brews like Widowmaker IPA, Trailbreaker Pale Ale and Ridgerunner Pilsner.
Then we were drawn outside (it was one of those glorious sunny Squamish days) to the lustrous enticement of an Airstream trailer converted into a taco food truck. LUZ TACOS manages to offer a comparatively vast menu out of this small space (which moves around and is more often up the street by A-FRAME) like ceviche, Baja-style fish tacos, flautas and chimichangas. Without leaving Squamish — and thanks again to our devoted and patient designated driver – we travelled from Howe Sound to New Orleans to Korea to the Baja and back again ... all without ever losing sight of the magnificent mountains and oceans.
When you've got a day or two to linger, try the Squamish Ale Trail ... but don't hesitate to diverge from the path. There are plenty of sights and delights along the way. Of course, following the map ensures you'll never get thirsty.