Nadine Manson's journey to a career in slow fashion with her popular leggings' business BEWILDHER, was an organic one. Which is perfectly in line with the philosophy of her business, and of slow fashion itself.
"The essence of slow fashion is slowing down long enough to figure out what you can do to be more ethical and sustainable. It doesn't matter if you're a big brand that's well established or you're a small brand just starting out," she says. And slow down is just what she did — or rather, was forced to do — when her first iteration of Bewildher collapsed into a pile of unsold product that sent her into a depression, then a rebirth of sorts. The birth of Bewildher coincided with the actual birth of her son, as well as an eviction notice from her Squamish trailer, which she and her husband had been racing to renovate as parenthood loomed.
Manson grappled with what fashion meant to her, and why she had started in the business in the first place. "You have to hit rock bottom a little bit in order to figure out what the world needs. In my case rock bottom was tons of inventory in bins in my living room," she said. 
"You spend a ton of money on product that you can't move, then you spend more money on marketing trying to move it, and it just didn't seem like the best way to be doing things. I got to a point where I couldn't financially and feasibly continue, and it just seemed like I would be going more and more into debt, so I decided I was going to quit."
Which is where winter of 2017 found her, starting over and considering going back to designing for other people. But when her diehard customers offered to prepay for her leggings, she had a flash of brilliance and decided to flip her business model on its head. She found a local factory that pays its workers fair wages, and started to do fabric cutting herself so she could make smaller orders. "It means more work for me and is probably not as profitable if you think of time as money, but it's growing my brand in a much safer, less risky, less wasteful way." Manson makes her clothing from polyester spandex made from recycled post-consumer plastic bottles. She balances out the more expensive fabric by getting creative with cutting costs on the back end."
There's a lot of things I put into my leggings to make them more ethical and sustainable, that make them cost more. In general, I've decided to make a lesser profit in order to make those things happen."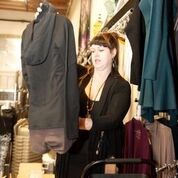 Another local, woman-run slow fashion company is MAHADEVI DESIGN, which has been making bamboo and organic cotton blended "athleisure" wear for over a decade, selling their products at festivals and eco-conscious retailers around the world.
Co-owners Freyja Skye and Jules Marie Emmerson strive to find hard-working fabrics that have less chemical waste than fabrics made more traditionally. "We work with a mill that breaks down the bamboo slowly, in a solution similar to acetic acid," Emmerson explains.
"Because it takes longer to make our fabric and break down the fibre, it's not 'fast fashion.' The quality is really good, the clothes last a long time and it's healthier." The bamboo for their fabrics is sourced, milled and sewn in a region of China traditionally known for silk production. Emmerson has visited the factory where their pieces are sewn to ensure the workers are earning fair wages in a healthy work environment, and the clothes are shipped in cardboard boxes rather than plastic bags. At the retail end, MahaDevi only deals with environmentally conscious vendors. "Everywhere along the line, we try to be as minimal and sustainable as we can," Emmerson says.
The "fast fashion" industry is one of the world's top polluters; in fact it is second only to the oil industry. According to 7billionfor7seas.com, it also employs some 40 billion people, many of them children, many of them in unhealthy or dangerous conditions, for wages that leave them under the poverty line.
The fashion industry is the second biggest contributor to child labour, after the tech industry. Companies like MahaDevi and Bewildher are slowly trying to make a dent in fast fashion, leading by example and being the change they want to see. And of course, by producing beautiful, high-quality clothing.
"My motto is, if it looks nice enough to wear out to dinner but it's comfortable enough to sleep in, it's okay," Emmerson says. "In this day and age that's what we need, we need clothes that can transfer across all different genres and just be comfortable. We went through generations of being corseted and tailored and fitted into things. These days, people want to move their bodies.