Canine Valley, a Squamish non-profit that provides a vast range of services for dogs and people, recently welcomed 40 dogs that were on death row at "high-kill" shelters in the U.S.
Carlos Merac said his organization's role goes beyond saving the dogs' lives.
The 40 lucky animals, many of whom were stray or feral and almost all of whom have one behavioral issue or another, went through a one-month intensive training program.
"They're learning how to socialize, how to regain their faith in humans, how to have good manners, walk on a leash," said Merac.
While the dogs were in class, potential adoptive families were interviewed, underwent home visits and discussed their willingness and abilities to develop relationships with dogs of various personality types.
After the month was up, the dogs were paired with the family best suited for their mutual personalities. This is a program that CANINE VALLEY undertakes every year – one of a huge range of services the nonprofit provides in the Sea to Sky region. And Canine Valley is just one of many groups in the area providing services to dogs. As the human population of Squamish has grown, so has the canine population.
This is a great place for dogs to live their best lives, whether they love hiking in the woods, swimming in the plentiful water bodies or just lounging outside cafés on Cleveland Avenue. The range of services catering to their needs continues to expand. "By the time the kids are done Level 3, they know more about dogs than most adults do."
Canine Valley has been around 15 years, with master trainer Valley Calderoni gaining a reputation as something of a guru in dog behaviour. In addition to the annual life-saving exodus from doggy death rows, another unique program is Canine Kids. In this three-tier course, kids from tots to teens learn how to communicate and interact with dogs, demonstrating confidence and vocal authority. "That's an essential part of working with dogs," Merac said. "By the time the kids are done Level 3, they know more about dogs than most adults do."
Valley also trains dogs, including rescues, to become therapy animals, brings dogs on therapeutic visits to wellness centres, schools and meetings with special needs kids, and acts as "pet detective" to find missing dogs — including a locally famous case where a Labrador puppy bolted after a car accident and was found after a 21-day search that mobilized scores of volunteers.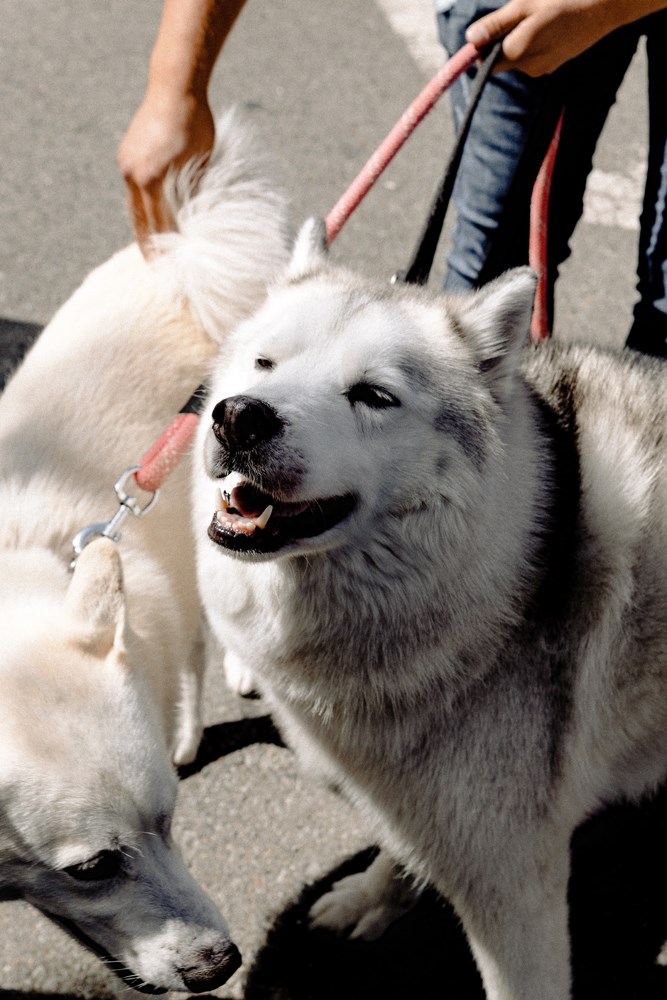 The organization's team of trainers specializes in working with reactive dogs but also offers a variety of programs for all personalities. There is a "Hollywood tricks" class for aspiring actors and a "nose work lab," where dogs hunt for assigned scents. ("Find the vanilla!") Programs for introducing a dog to a new baby or another pet are available, as are holistic health programs like massage and aqua-therapy. Grooming is also available on-site. It's an advocacy agency of sorts, too.
"We work with the District of Squamish to improve the general well-being of dogs and their relationships to community," said Merac. They are also the place of last resort for many dogs – from Squamish and elsewhere – whose behavioural troubles put them at risk for euthanasia. "We're often the last line of defence for dogs who are going to get put down, dogs that have severe issues, aggression or fear," he said. "Before they put them down, they come here and oftentimes we're able to train them, or at the very least get enough training to implement a management plan, so that the dogs can keep on living."
"While Canine Valley offers an array of services, plenty of other groups in town specialize in training, dog-walking, boarding, daycare and, of course, veterinary services and grooming. DOGHAVEN has been caring for Squamish pooches since 1997. Its daycare includes hikes in the beautiful Squamish trails, forested areas, as well as time at the river or beach. It boasts that it is kennel-free, and offers comprehensive care and socialization.
Tracy Odell operates RUFF STUFF DOG SERVICES, which offers dog daycare and boarding. Ask her what makes Squamish a good place for dogs and she turns the question around. "What doesn't make Squamish a good place for dogs?" she replies. "There's so many trails and so many wonderful places, lakes and rivers and oceans, to take them swimming and hiking."
The attraction of the area for dogs and their people has created pressure on services. Like other dog-serving businesses, Ruff Stuff sees plenty of demand. Her daycare business is flourishing, with a waitlist, and her overnight boarding is likewise full at peak holiday times. As a business owner, she said, "It's a good problem to have." For pet owners, or visitors who want to drop Binky off while they do a day trip, supply and demand present challenges.
For those she can accommodate, Odell promises "kind of a little Disneyland for dogs." "They get to socialize and play with other dogs, they get to go on hikes, they get to dig in sandpits and do agility stuff, then they also get to relax, chill out and have downtime as well," she said. "They got lots of love and attention."
A reality of dog life in the area is that, officially, there is only one off-leash area in the District of Squamish — a fenced-in area at Eaglewind Dog Park, behind Save On Foods. Unofficially, people have been letting their dogs run free in several areas.
This can create conflicts not only with people and other dogs, but with wildlife, the most common unwelcome interactions being with bears and wolves. There are also plenty of coyotes, bobcats, moose and elk. Annie Roy, who operates ANNIE LET THE DOGS OUT, emphasizes safety first. She is animal first aid and CPR certified, offers pick-up and drop-off services and towel dries and checks for ticks after excursions. "I do it all," said Roy.
"It's a one-stop for any service you need."
She offers pack or private walks, special rehabilitative walks for dogs that are injured, recovering from surgery, older dogs, puppies and those who can be aggressive. She provides daycare and overnight boarding for a maximum of three dogs at a time. Like Odell, she's often at capacity. When taking dogs on the local trails, Roy said it's crucial to be aware of surroundings, not just for the potential for interactions with wildlife, but also the frequent and sudden arrival of dirt or mountain bike riders.
Most are very accommodating, she said, and others who use the trails can hardly find fault with the trail bikers — they are the ones who built and maintain most of the trails. Far from squabbling over sharing, Roy donates to SORCA, the Squamish Off-Road Cycling Association, which is a volunteer group that builds and manages the trail system.
Other companies in town, many of which seem to compete for the most adorable names, include OUTWARD HOUND, which offers adventure hikes, daycare and boarding; walkers, pet-sitters and "potty break" providers MOUNTAIN BOUND HOUNDS; and PAW IN HAND, a trainer that also specializes in introducing new babies and toddlers to pets.
Squamish is also home to Barb Cooke, who brought the Australian one-on-one, at-home dog-training franchise BARK BUSTERS to Canada. In addition to running the local franchise, Cooke is director of training for Bark Busters Canada. Visitors to town will have no problem finding pet food and supplies from chain and independent retailers as well