Take a look around when you're out on the trails, in town or even on the rivers and lakes surrounding Squamish, and you will see a constant furry presence that can't be denied.
Animals rule this town. While the District of Squamish may be a little behind in catching up with bylaws around off-leash areas within city limits, there is no denying that having a four-legged friend seems to go hand-in-hand with daily life in the Sea to Sky Corridor.
"It's just the lifestyle that people want when they live here. There's just so much hiking and biking, even people paddleboarding with their dogs," says Julie MacKinnon, owner of The Green Dog, natural dog groomer in Squamish.
Squamish's dog-to-human ratio is growing all the time; currently there are 2,272 dogs registered, with a population of about 20,000 people.
"I think it ties in with the idea of attracting young families, active people that like to enjoy the outdoors, and the lifestyle that ties in with that is, you've got your dog buddy with you," said MacKinnon. She remembers that when she opened her dog salon in 2007, there were two dog walkers in town. Now, there are at least twenty, as well as many boutique-style dog services popping up to serve the growing canine population.
While there are as yet no official off-leash dog areas in the District of Squamish, there are a multitude of dog-friendly trails in the surrounding area that are only a short trip or even steps away from the city.
Allison Clarke, Squamish resident of 19 years, moved to the Highlands recently and loves the freedom the neighbourhood allows her to walk her two dogs in the endless forest.
"It's really nice to be able to walk a block and a half from where I live and let my dogs off leash. And they just have a wonderful, wonderful time," says Clarke.
Also, Squamish is just a generally dog-friendly town, Clarke says.
"Lots of people have dogs, so they're accepted. So at the market, or walking down the street, there's lots of dogs and people seem fairly happy about having them around," she said.
Even though there is a seemingly endless supply of trails that are easily accessed, locals can be secretive about their dog walking spots.
"I don't give out trail names," says Pam Zajac, while running her dog at Newport Beach. "Those are secret, I can't give those out, people will go there!"
But, even without secret spots, there are plenty of trails to explore — on-leash of course — such as the Four Lakes Loop, Brohm Lake, and the estuary trails near Squamish's downtown.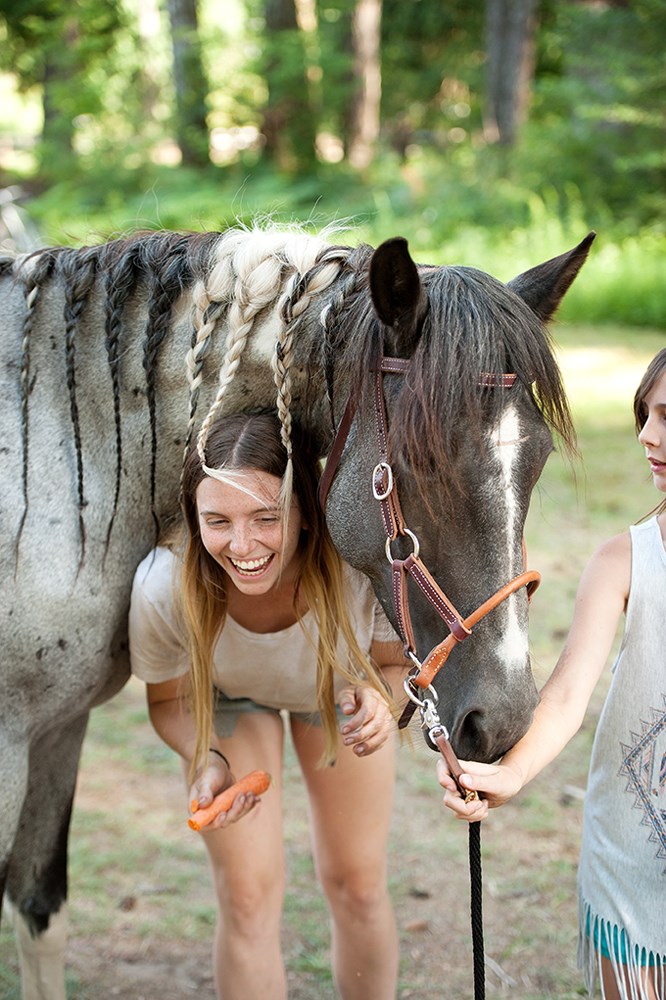 Squamish Safe Haven
While Squamish is definitely in the throes of a love affair with our canine friends, there are other animal lovers in the area as well.
Kris Latham, owner of Second Chance Cheekye Ranch along with partner Greg Hinds, bought the property on Squamish Valley Road when she needed more space for her growing family of rescued horses and donkeys.
Now, there are approximately 47 horses roaming the ranch as well as pigs, donkeys, mules, and dogs.
Latham and Hinds rescue (mostly) horses who are headed for the "slaughter pipeline," an auction system in Canada that sends horses that often were pets or used for racing to kill lots, where they are slaughtered for sale overseas. 
Horse meat is consumed in many European countries, is considered a delicacy in Japan, and in Canada, it is still legal to export horse meat as well as live horses (horse slaughterhouses are illegal in the U.S.).
"It's very hard, we try to do as much as we can as far as getting petitions out, spreading awareness. It's amazing how many people don't know that this is going on," Latham says.
She and Hinds do their best to save as many horses as they can from that fate. They also take on horses who are traumatized or stressed from other factors.
"Knowing that these animals are safe here, and working with them, is a passion for me," said Latham. "To be able to work with them is so incredibly fulfilling."
With the help of many horse-loving local volunteers, the couple goes to auctions to bid on horses otherwise headed for slaughter, then care for them, helping the often very stressed animals to come back from traumatizing experiences.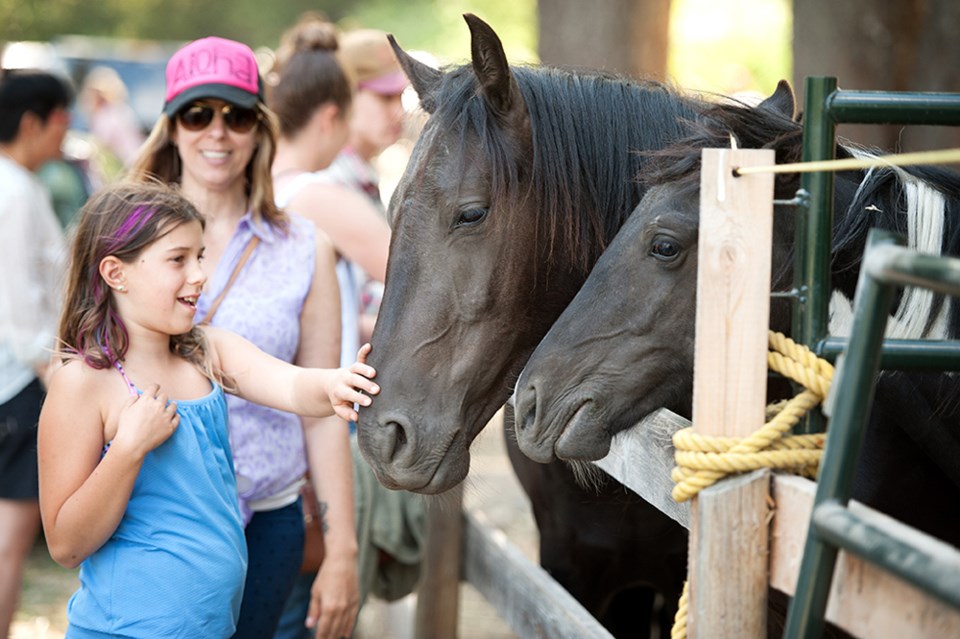 "They're just a totally different horse within two weeks, it's such a transformation. To be that person, to be able to provide that space for them is just incredible. And the work that goes into them, to gain their trust and be able to find the perfect home for them after the fact is just great."
Latham and Hinds have rescued and homed about 70 animals so far.
But the benefit is not only for the horses — the process helps humans as well. Latham says that she has seen volunteers with anxiety disorders change from completely introverted individuals to functioning, happy people, just from working with the animals.
Everyone can benefit from face-to-face animal time, Latham says.
"We miss that. People are so busy in their lives that they don't stop to reach out. People say, stop and smell the flowers; for me, it's stop and pet a horse, or a pig, or an animal. Animals are so incredible for that."