Whether it's the allure of an alternative lifestyle, the desire to be environmentally conscious, or financial pressures felt under a housing crunch, more people in Squamish are choosing to live in vans.
As the outdoor recreation capital of Canada in a moderate coastal climate, it makes sense that some would want to park their homes here.
Some find ditching a stationary home to be freeing. Others also enjoy active lifestyles, travelling, camping and the outdoors.
But even with Squamish's mild weather, living in the trailer during the winter is not without its challenges.
Liesl Petersen moved into her Airstream in 2013 with her young daughter and soon started her own business doing commercial and artistic painting.
Living in the Airstream was a move that made financial sense to her, but she also sees it as a challenge to live a simple, minimalist lifestyle.
"That first winter, everything went wrong," Petersen recalls. "We spent a lot of time going on trips to warm up, or hang out at a friend's houses definitely utilizing coffee shops to do your socializing and business, and just coming home to sleep."
Frozen pipes, broken water tanks, condensation, poor insulation and losing electricity and running water are some of the issues she faced wintering in her trailer.

During her first two winters in the trailer, there were periods when the temperatures dropped below zero, freezing the water lines and cracking the hot water tank — twice — each time setting her back between $100 and $1,000.
She and her daughter would often sleep in their second vehicle, a van, to keep warm with a portable propane heater whenever they encountered problems with the Airstream.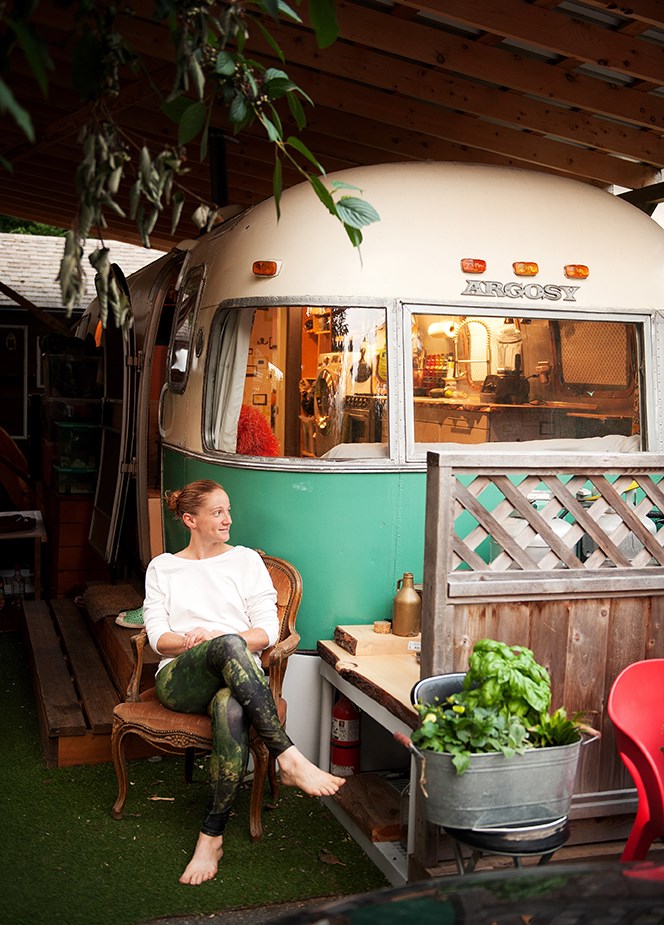 Another way they kept warm was visiting the recreation centre. The pair would regularly stop in to warm up in the hot tub, and take a hot shower when the water tank was acting up.
"It was a sobering experience for me as a single mom," she says.

"It was uncomfortable, to say the least, but you fall into a routine. It's really interesting that, as you adapt to that kind of lifestyle, it becomes normal to you."

The third winter was much better, but it wasn't without problems. They moved to another location with reliable electricity so they wouldn't have to depend as much on propane heaters.

Condensation is another common issue for people living in vans and trailers during the winter. Getting in and out without tracking in a lot of water, slush and snow can be tricky. There's also little space to hang wet clothes, which take a long time to dry because they create condensation and humidity.

But over the first three years, she was making a list, planning for long-term solutions to her problems. In 2016, she renovated the vehicle into a tiny home. She installed in-floor heating, used electric heaters and a wood stove, improved insulation, air flow, and reduced condensation. She also figured out a way to prevent pipes from freezing and the heater from breaking.

Now, after investing in repairs and upgrades, she feels like it's a comfortable little home.
Curtis Suave lives in Squamish year-round in his "soccer mom van," something he's been doing here for 10 years.

The financial freedom makes it all worthwhile, he says. Suave finds he only needs to work a few months of the year working to maintain his lifestyle and cover expenses. Now he spends his money on recreation and plane tickets instead of rent.
He also finds living outdoors suits him.

"It was really nice to get out of a stuffy apartment building and live outside," he says.

"It allows me to think differently. To go on a road trip, I don't have to find someone to sublet my place for three months. I get to just go for three months."
But even for Curtis, there are some trade-offs to living outside.

Condensation is a challenge he's faced too. It is a problem he overcomes by drying his clothes on a heater in the storage unit he rents that doubles as his art studio. He, like Petersen, has a gym membership, and that's where he goes to shower and dry out his wet clothing.
But his major complaint about winter is "all the complainers." Even for people who have homes, he says, they often complain about the wet weather and are reluctant to spend time outdoors. Just like living in a van, any type of home can have problems in the colder, wet months. Cabin fever can also set in whether you live in an apartment or a house.

"There's complainers and problem solvers. Everything's a challenge, even when it's hot. Even in a house," he says. "There are always challenges."
Living outside in 10-degree weather with rain, he says, is not one of them. He would rather be outside than cooped up inside an apartment.

As for Petersen, she's also resilient. Though she moved to her trailer for economic reasons, she's adapted quickly and has been learning to appreciate living a simple life.
"There were definitely hopeless days… I had tears over (the move.) But after a few instances of persevering through that tough moment and finding some sort of alternative to jimmy-rig the situation better, then there's that little sense of accomplishment," she says.
"You realize it's not the end of the world to not have running water."