The story of Lorne Cardinal and Monique Hurteau's respective move to Squamish is a triple love story. But it's not what you think.
Cardinal, best known for his long-running role as Sgt. Davis Quinton on Corner Gas, was first introduced to the area in 2001 when he was in town working on the film Insomnia, starring Robin Williams and Al Pacino.
The actors were being helicoptered up to the peak of the Stawamus Chief, where the Northern Alberta-bred Cardinal couldn't help but notice the special beauty of the coastline and mountains.
But he wasn't instantly sold.
"I didn't care for it too much then because they had the pulp mill still going, then when I came back 10 years ago to look at it, the pulp mill was closed," Cardinal said, and that's when he decided to move to the area permanently.
"I wanted the peace and quiet, the trees and lakes and rivers. I really needed that, and Squamish was it."
And Hurteau?
"I kidnapped her with some butter chicken," says Cardinal without hesitation.
Hurteau, who in her own right is a writer, director, comedian (on hiatus), artist, and producer, corroborates this claim.
They met at a stand-up comedy show which Cardinal organized and which Hurteau was performing in, and a plate of the fated butter chicken at Pepe's Chophouse sealed the deal.
"My twisted sense of humour didn't scare him off, and we got together and I moved up here, and haven't looked back. I love it," said Hurteau. She moved to Squamish in 2008.
"I didn't realize how much I needed the quieter, calmer pace. It's a lot quieter when we get home but we like that, because of the stark contrast from when we go to events because it's so busy, so incredibly busy."
Hurteau and Cardinal both keep a hectic pace in their respective careers, Cardinal with various acting roles in film, television, and theatre, and Hurteau with an evolving visual art career as well as writing and producing screenplays and other projects.
The two have co-created as well, notably on the documentary Chasing Lear, which follows the progress of Canada's first all-Aboriginal production of King Lear, of which Cardinal was assistant director and also played the Duke of Albany. Hurteau and Cardinal co-produced the film which appeared on APTN in 2016.
Cardinal is currently voice acting in Molly of Denali, an animated series starring an Indigenous Alaskan girl. He is also taking part in a theatre production of The Tempest, which is being staged in Edmonton with rehearsals in Banff.
"Just to sit by the water and listen to the river and hear the wind in the trees, nothing helps me more than that."
"We travel for our work a lot, so it's such a beautiful place to come back to and decompress," said Hurteau.
"Having the beautiful lakes and waters and nature to get out in, a few minutes from our home, I sigh a lot from relief."
The couple has both lived in many different areas of B.C. and Canada, Hurteau in Nelson, Prince George, and Vancouver to name a few, and Cardinal moving around a lot with his family growing up and as a tree-planting youth.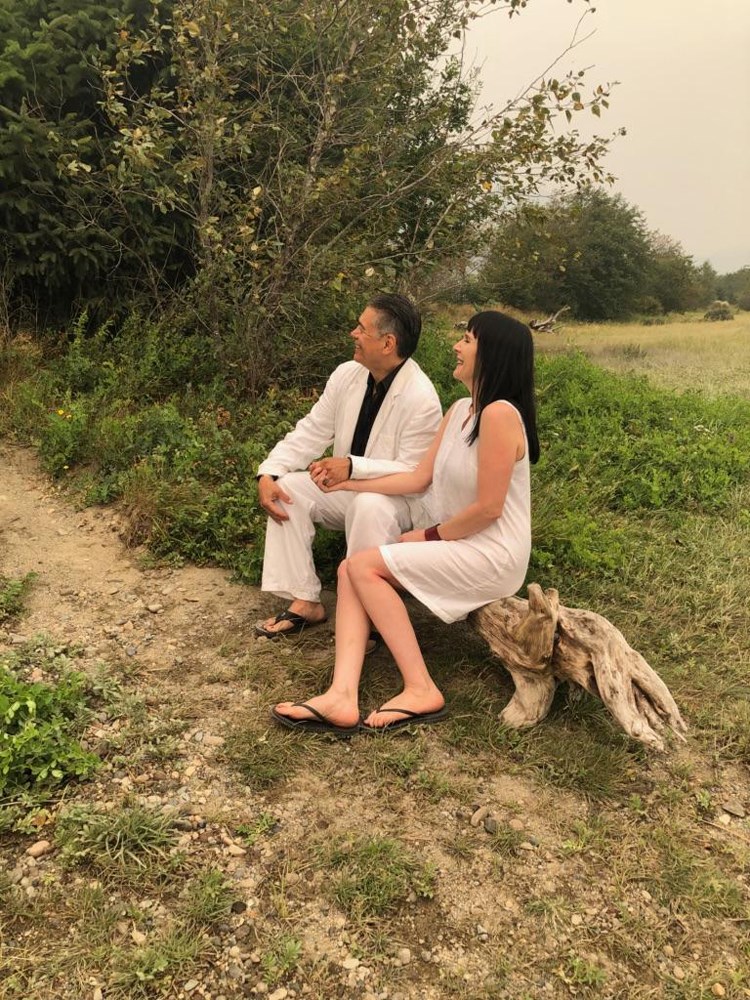 They continue to travel regularly for various work projects and auditions but are always glad to return to the peace of Squamish.
"Just to sit by the water and listen to the river and hear the wind in the trees, nothing helps me more than that, than being grounded and being with family again, taking the dog for a walk," said Cardinal.
Hurteau is active in the art scene in the Sea to Sky Corridor, showing her eclectic, not-easily-categorized art regularly in Whistler and Squamish.
The couple married in the summer of 2018, and when they're not travelling, they can be found around home where Hurteau is busy in her studio and walking their husky-border collie mix Jake around the trails of the area.
"I've lived in B.C. all my life, and I keep getting surprised at how stunning our province is. I like having the small town close to the big city," says Hurteau, who was living in Vancouver when she met Cardinal. "The one thing I miss about living in Vancouver was I would run the seawall, but I would much rather be by the river and the quiet without having to leap over extendable leashes like I'm doing a steeplechase."